I Don't Trust You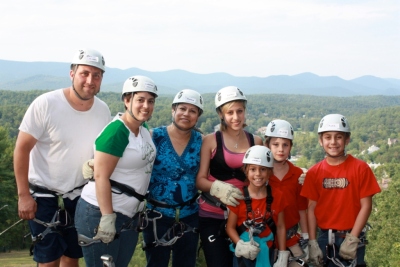 My family decided to get away recently and we went up to the Shenandoah Valley for the weekend. It was really great! We rented a small house, my mom, brother, and brother-in-law, along with their respective children came with us. There were 11 of us in all. We played board games, ate s'mores, went zip lining, saw the Luray Caverns (that's a must-see), and went canoeing and tubing down the river. That's where my husband and I had one of our biggest disconnects ever.
You see, Mike and I come from very different family backgrounds and like most couples sometimes personalities just don't mesh under certain circumstances. Mike lived with his mother and his sister most of his young life. It was pretty uneventful and he was quite a lonely kid. I think that's why he was initially attracted to me because I came from a big, loud, crazy family. I grew up with my mother and stepfather and five other siblings. There were eight people living in my household growing up and you were never alone and never without something to do. Consequently, my husband is not really the outdoorsy type and has a little bit slower of a reaction time, whereas I on the other hand am a little more adventurous and have quicker response skills (you had to when I was growing up, if you were going to survive with that many people).
When we got to the canoe/tubing rental center, my three children decided to rent tubes while my husband rented a canoe for us. This was a first for Mike and our kids so we were all very excited about it. I had been tubing years ago and knew that we would have a great time. I actually would have preferred to tube myself but as I said earlier my husband is not the rugged type and preferred to "stay dry" in the canoe and asked me if I would canoe with him. He was so sweet and romantic that I just couldn't turn him down. So, the kids tubed alongside the canoe as we made our way three miles down the river.
The river was beautiful and we were having a lot of fun. My two daughters, 13 and 8 years old, were having a blast floating downstream. My 11 year-old son however, was very uneasy in these unknown waters and after a short time decided to get into the canoe with Mike and I. He thought it would be safer. Now this is where the story turns. We came to an area where the water was low yet running rapidly over some rocks, and since we were not experienced with canoes and rapids, our canoe didn't go the right way. We hadn't been paying attention to what was coming up ahead. We got stuck on one side of the riverbank surrounded by rocks and weren't really sure what to do.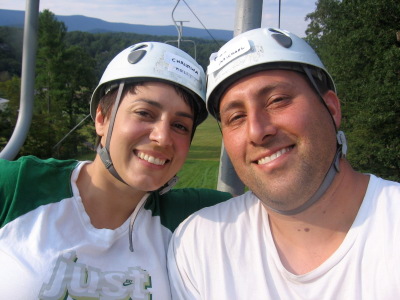 Mike finally spotted a small opening and maneuvered the boat sideways to get us back into the direct flow of the river so we would continue back downstream. As we tried to squeeze the canoe between the rocks, we got stuck and so proceeded to rock the canoe with our bodies in order to get ourselves unstuck. Our canoe quickly slid horizontally into the vertical down-pouring of the rapids, which caused us to flip over. The canoe floated away down river along with clothes and shoes bobbing up and down in the water. The current swept my husband to one side of the bank while my son and I struggled against the rapidly flowing water trying to get our footing, which was difficult because neither one of us had any shoes on.
My son and I desperately and in anguish with cut up feet, hands, elbows, and knees, crawled our way out of the flow and onto the other side of the river. Although I was very afraid, I had to stay strong for my son because he was crying and very upset. I kept telling him that we are okay and kept encouraging him to just take it slow, one step at a time, until we got to a safe part of the bank where my brother-in-law was waiting for us. He had caught our canoe and had brought it back to rescue us. After my son and I were safely back in the canoe, we went to the other side of the river to pick up Mike who, I could tell, was already feeling terrible about not being able to help us as we were scrambling in the water. Our girls were just fine; their tubes worked marvelously and just carried them easily down stream.
My biggest worry at this point was my son. He was terrified and didn't want to be back in the canoe. We still had about another hour to go down river until we would get to our pick-up destination. Every subsequent rapid that came upon us was intense and I could hear my son's fear in his cries. I tried consoling my son and paddling as fast as I could to help us get to our end-point faster. My husband at this point was pleading with me to just put down the paddle and relax to let him take care of things. But I just couldn't. I felt that if we were going to get out of this quickly and safely then I needed to help out.
I was frustrated because he hadn't seemed to be able to read the river very well, which was understandable since this was new to him, but I wasn't willing to just let go and let him handle it. That's how we got flipped over in the first place. Once again, he asked me to put down the paddle and just let him take care of it, when it happened. I even thought about what I was saying before I said it but I couldn't stop it from coming out. "I Don't Trust You," I blurted out. I couldn't see his face because I was in the front of the canoe but all I heard was a faint, "I'm Sorry," come from behind me. And then it was silent. Other than communicating for the sake of getting us to the pick-up spot, we didn't say anything else to each other.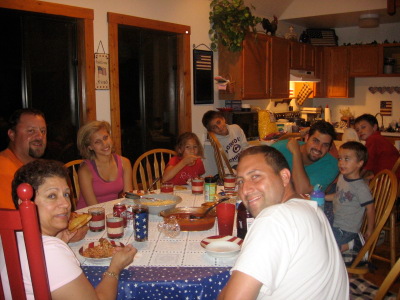 It wasn't until later that day that my brother and brother-in-law had both, at different times, told me that maybe I had been too hard on Mike and that he had confided in them at the shoreline about what I had said. He told them that he didn't know which had been worse, the helpless feeling of watching his wife and son struggle in the flowing river unable to get to their rescue or the words of his wife saying that she didn't trust him, right in front of their son.
I was immediately convicted. I knew that I couldn't take back my words and the way I had felt in the heat of that moment, but I knew that I needed to clarify and apologize. I later went to Mike and asked for his forgiveness and explained that I was scared for my son and that my fear and distrust in his canoeing abilities are what culminated in my words. I reassured him that my comment was not a general statement of distrust but just circumstantial to this particular situation and that I trusted him implicitly and knew that he would never intentionally put either our son or myself in danger.
I tell you this story because sometimes we don't realize as wives how damaging our words to our husbands can be. Our husbands need our support and encouragement especially in the roughest of moments. Secretly most men already feel insecure or inadequate to do all that is expected of them to do for their families as provider, protector, spiritual head, etc. But if they have our continued confidence in them, even when we really are fearful, and if we have our continued confidence in the Lord, then we can truly know that we will be okay and give our husbands the respect and trust that they need to carry on their husbandly duties confidently. Be aware of what comes out of your mouth. Once it's out, you can apologize, but you can't take it back.

Ephesians 5:33b: "The wife must respect her husband" (NIV).
Copyright © 2008-2015 Christina Messer
Read more about the writer: Christina Messer
---
Post Your Comment...
---