Keeping Up With the Crack of Dawn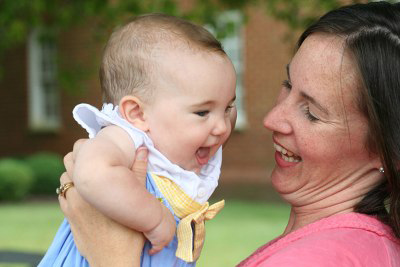 Some people keep up with the Jones's, others keep up with schedules, deadlines, or still others, self-inflicted expectations. My goal is to keep up with the crack of dawn: that time just before the sun rises, when for some reason my eyes open-and stay open for the day. Lately it's about 5:45 a.m.
Almost like clockwork, within about 15 to 20 minutes from that time, I will hear my baby crying and that for me is the start of my day. Rarely do I wake up to the baby crying, as I am already awake. I believe one reason for this, is that my body responds to the very minute change in daylight cracking in between the shades. Another reason is that I believe God allows me this quiet moment to prepare me for my day. Very rarely do I jump in the shower in those fifteen minutes, and even more rarely, I have gone downstairs to get online or bake something for breakfast.
Most of the time, I lay awake and ponder the day's tasks and ask God to give me strength for the day, wisdom and insight for my children, patience, tolerance, and His precious Holy Spirit to remind me to cherish the moments, as they are so fleeting. I ask Him to remind me of all that needs to be accomplished, and to refresh and renew me as I go.
I'm keeping up with the crack of dawn because once dawn hits and the baby cries, my day is not my own. I cherish the fifteen minutes I have with the Lord to thank Him for His mercy and His joy, which are new every morning. The more I thank Him, the more I feel His peace, and the more enthusiastic I am to give my day to these little ones He gave me to love, care for, nurture and protect.
Taking the time just to thank God is so important. Every day is a gift, and how we spend our days are our gift back to God. We love our little ones, but He loves them and us so much more.
Psalm 143:8 says, "Let the morning bring me word of your unfailing love for I have put my trust in you." My day goes so much better when I take the first 15 minutes of the morning and acknowledge God, give Him my day, receive His power, and dedicate my daily activities to Him. I do this in service and gratitude for His love and the gifts He has given to me.
So, when you see the sun about to rise and you happen to be awake for whatever reason, consider it your chance to "keep up with the crack of dawn." Just give Him thanks and be reminded that He never fails, and He loves us with an everlasting love, and that allows us to make the most of our day with His strength, not ours.
Copyright © 2008-2015 Patricia Vera
Read more about the writer: Patricia Vera
---
Post Your Comment...
---