Tips for Holiday "Cents"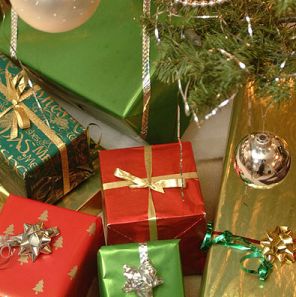 Before the holidays are in full swing, consider ways to handle things differently this year.

After the holidays have passed, do you have to hire a crane operator to unload all of the gifts from under the tree? Do you get your credit statement and the post master had to apply additional postage because there are so many pages from all the holiday shopping? The holiday season with all it's hustle and bustle doesn't mean you have to re-finance your home because your giving and spending got out of control.

Follow these holiday tips to avoid the New Years financial blues. With the economy screaming for clearance sales and unemployment at an all time high, it makes good "cents" to pinch your pennies and you can still be a part of the Christmas cheer.

Tip #1: Little children don't require expensive toys. They love dollar tree gift cards, educational toys and books. Don't feel guilty or obligated to purchase an I- phone for your 5 year old just because "Application Annie" in the kindergarten got one for her birthday. (Gently used kids books can be found at second hand stores and wiped off to look like new. Check for writing on the inside and if it's a must have-- simply apply a label with a personal greeting. It's nice to shop at second hand stores that some of the proceeds go to a non profit organization like children's hospitals or veterans.

Tip #2: Buy all your gift wrap and ribbons after the holidays. It can be purchased at 75% off and stored in a wrap container for the following year.

Tip #3: Consider a 3 gift maximum for close family and children. Jesus got Gold, Frankinsence and Myrrh. Relate your gift giving experience to the Biblical reasons of how and why gift giving originated in the Bible.

Tip #4: Instead of buying ties and the latest obnoxious smelling fruity bath lotions, plan a night out with that special someone. Date night for the weary couple during the holidays is a precious gift to give your spouse. Quality time can help reduce some of the suffering from the seasonal stressors.

Tip #5: Bake brownies and make chocolate covered goodies for neighbors and obligatory distant friends. This is a fun family event and pretzels are easy to dress in holiday cheer by those precious family helpers. The dollar store has an assortment of cute holiday plates or baskets to dress up your goodies. Let your children deliver them to neighbors robed in their Christmas hats and sweaters.

Tip #6: Host a dip and dessert party for close friends to honor special relationships. There is no gift more valuable as time. A small ornament or a bag of homemade white chocolate pretzels with Christmas sprinkles makes a cute party favor. Tie a Christmas ribbon and a sentiment to honor your guests.

Tip #7: Wait for the date. Special large purchases are likely to go on sale around the holidays. Avoid impulse buys and wait for things to be at their lowest prices.

Tip #8: Avoid credit purchases. We always hear this advice and the truth is, it is much easier to over spend when you are not required to pay cash up front.

You are sure to enjoy your holidays more when you haven't loaded yourself and your family down with unnecessary purchases and expenses… Your holidays will be more peaceful and your new year much brighter!
Copyright © 2008-2015 Sherry Norquist
Read more about the writer: Sherry Norquist
---
Post Your Comment...
---