What's New for the Holiday 2009? "What You Want It To Be"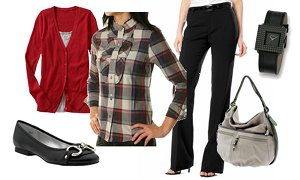 Why don't you sport a brightly colored- sweater to get into the Christmas spirit? Curl your eyelashes before you leave the house or better yet, try those demi-lashes that you have secretly been longing to see yourself in.
Rearrange your closet and "surprise," it's your little black dress that can be worn to the office with a jacket and then to an evening out with a scarf wrap. Pair the outfit with bold, gold earrings and a small cosmetic bag that you purchased last summer. "VOILA."
Also, check out your local consignment shop and look for black tuxedo pants with a silk blouse that can be dressed up or down. This outfit will take you a long way into the holiday season. Lift your mood and add some little glittery clip-ons to those silver flats that you wore this past summer.
Don't forget your face. Jazz up makeup basics with a little gold on the lids, black eyeliner and lots of lip gloss, complete with a big smile.
It's been a tough year for a lot of us, but with God's help, "we can make it" and enjoy celebrating the birthday of our Savior, Jesus Christ.
Copyright © 2008-2015 Susan Russell
Read more about the writer: Susan Russell
---
Post Your Comment...
---