Fully Known and Fully Loved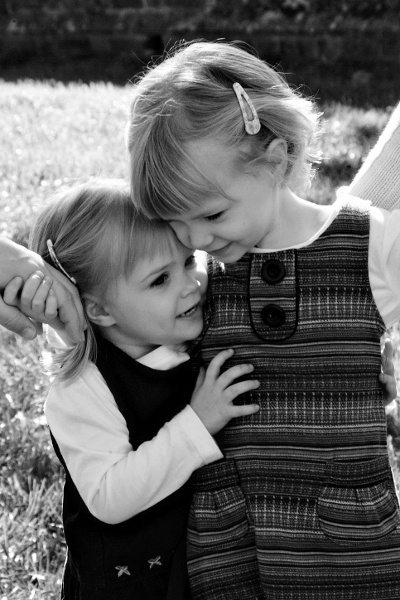 People often ask me if my two oldest daughters play well together, and my answer typically is: "They are best friends. They play hard and they fight hard." Anything could explode into an argument between them, but there is one guaranteed fire starter.
My oldest, Victoria, likes to label, categorize and name, so it is imperative to her that my younger daughter, Lauren, fill a role, whether in play or in real life. Victoria begins most play times with, "Lauren, you be the baby and I'll be the mommy." Even in her general conversation, Victoria consistently returns to statements like, "Lauren, you are the little sister and I am the big sister."
Younger sister, Lauren, however, has one consistent reaction to these assignments--she wrinkles up her face in anger and screams in her loudest and screechiest voice, "I am not ___________; I am Lauren!!!" and then makes a sound closest resembling a "hrumph" and folds her arms across her chest.
This dramatic denial of older sister, Victoria's assignment leads to screaming from both girls and potentially even some hair-pulling. Victoria cannot fathom why Lauren would object to being called "little sister" when she is in fact, by definition of their birth order, the little sister. In the end, though, no one can ever convince Lauren that she is defined by a position or by her relation to someone else. She is always uniquely "Lauren."
It seems that even as adults we struggle against being labeled and categorized by those around us, most of whom fail to invest time in truly getting to know us. In reality, though, are we ever just "a mom," "a conservative," "a spitfire," "a leader," or any number of over-simplifications?
One of the joys I still have in my ten-year marriage is being surprised by things my husband says or does because he is not a stereotype, and neither am I. We possess depth of personality shaped by a lifetime of experiences, we are intricately, intimately and uniquely designed by God, and we are ever-changing, hopefully in the process of becoming more Christ-like.
Part of God's unfathomably deep love for us is that He never overlooks our complexities. Isaiah tells us: "God says, 'Fear not, for I have redeemed you; I have called you by your name; You are Mine. . . Since you were precious in My sight, You have been honored, And I have loved you;'"Isaiah 43:1, 4 (NKJV). Similarly, God told Moses, "'I know you by name and you have found favor with me" Exodus 33:12, (NIV). God's intimate knowledge of us, including the ugliest parts of our soul, doesn't stop Him from loving us. Instead, He showers us with His affection by redeeming us, calling us by name, and honoring us.
There are times when intimacy with God requires a level of vulnerability that makes me uncomfortable. I squirm in my sin, knowing that the God who knows my name also knows my jealousy, anger, and impatience. Yet, in those moments, I remind myself of God's unfailing love and His great mercy. Do I deserve the love of a perfect God? Not at all!
In Romans, though, Paul reminds us that "God demonstrates his own love for us in this: While we were still sinners, Christ died for us" Romans 5:8 (NIV). Even when I was Christ's enemy, He saw the entirety of my sin and loved me anyway, dying in my place and then offering me redemption and the opportunity to be His. The relationship He offers me is not one in which I am just "a sinner" or "a Christian," but I am Heather, fully known and yet fully loved.
Copyright © 2008-2015 Heather King
Read more about the writer: Heather King
---
Reader Comments...
2010-03-08 07:53:17
"Precious example of how God teaches us through our children."
- Eileen
2010-02-02 09:29:03
"Wonderful article and great reminder of God knowing us intimately and yet still He loves us."
- Vickie
---
Post Your Comment...
---