Spring Into Fashion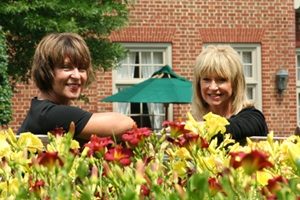 Fashion alert! —Spring has arrived. "Arm yourself" by wearing a V-neck top. It's instantly slimming. Stock up on jungle greens, studded separates and pack up those clothes that no longer fit to make room for what you really need this season.
For instance, grab on to spring's leather fringe or get back to nature with out-doorsy details, including wooden handles and wicker necklaces. Not ready for the funky looks? Then dress yourself in romantic florals or understated classics such as a jean jacket with a sheer top and a floral skirt. We all need to get value from our clothing these days.
If you must add one piece of "new," make it the "swoozy." Imagine a loose fitting, shear jacket with a shawl-like front, which can be tied or hung loose. Totally confused? Check out your nearest, upscale designer for more info.
Don't forget your umbrella for those occasional spring showers. Seldom mentioned, but a rainy day is just the opportunity for the right umbrella whether it's a basic stick model, a portable fold up, or heavy duty "gust buster." An umbrella can be your friend and an accessory item at the same time. Choose a floral, solid, or themed one.
Personal style, whatever the season, means customizing your looks with your own creations. You are the only "you" and God created you to have a signature style of your very own.
Copyright © 2008-2015 Susan Russell
Read more about the writer: Susan Russell
---
Post Your Comment...
---