< Back to Kitchen Keeper Recipes
10 Minute 'Tater Salad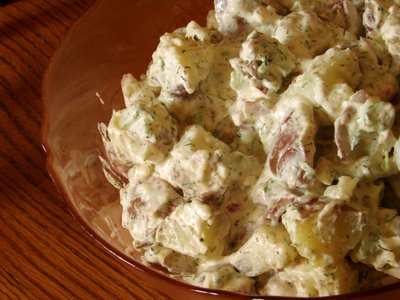 The potato salad you won't avoid making because it is so quick and easy.
Ingredients:
3 cans diced white potatoes
½ cup mayo
½ cup sour cream
sprinkle of dill
a dash of kosher salt
2 boiled eggs
bacon bits (optional)
Directions:
Boil the canned potatoes for about 5 minutes, let cool
Add the mayo, sour cream, bacon bits and chopped boiled eggs (save a slice to garnish the finished dish).
Stir all ingredients adding additional sour cream (low fat option) or mayo if needed.
Sprinkle in the salt and dill, stirring all the ingredients again.
Garnish the top with the remaining egg.
Copyright © 2008-2015 Sherry Norquist
Read more about the writer: Sherry Norquist
---
Post Your Comment...
---