< Back to Strength for Your Spirit
Hope Restored: Having Hope When Facing the Tomb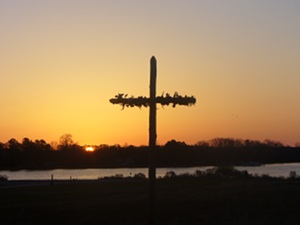 There are times when I take prayer requests at the close of a meeting almost reluctantly, but not because I don't care or because I don't want to pray. It's just that the requests seem so big and I feel the heaviness of them.
I've been crying out to God recently over cancer treatments that aren't going well, mystery illnesses, the death of babies and husbands, lost jobs, marriages on the brink of disaster. In my own life, I re call the anniversary of my Dad's death in March as the result of cancer and I also mourn the recent sudden and very unexpected death of our family doctor. It's all so overwhelming and sometimes even confusing. It seems like darkness without light, pain without hope.

In the Dark Places, We Forget

It makes me feel an affinity for the disciples in the three dark days between the cross and the resurrection. Days after riding through the streets of Jerusalem cheered by the crowd, Jesus had been captured, put on trial, crucified, and shut up in an impenetrable tomb, leaving the disciples overwhelmed, confused, and without hope. They questioned everything they had seen, heard, and believed about Jesus just days before. Then, they confessed Him as Messiah. Now, their Messiah was dead. Then, they had seen Him raise Lazarus and others from the dead. Now, His own death seemed unconquerable. They had been catapulted into darkness and all of God's promises and even their personal testimonies were called into question.

In the dark places, we too forget. Surrounded by pain and despair, we allow circumstances to determine our view of God. The physical "reality" of death, sickness, financial insecurity, and broken relationships tells us God isn't loving, God won't provide, God isn't at work on our behalf. When faced with tough circumstances, David also asked God some tough questions: "Will the Lord reject forever? Will He never show His favor again? Has His unfailing love vanished forever? Has His promise failed for all time? Has God forgotten to be merciful? Has He in anger withheld His compassion?" (Psalm 77:7-9, NIV).

Ultimately, David fought against these doubts by returning to what He knew was truth: "I will remember the deeds of the LORD; yes, I will remember your miracles of long ago. I will meditate on all your works and consider all your mighty deeds." (Psalm 77:11-12, NIV). Rather than view God through our circumstances, we similarly need to view our circumstances through the lens of Scripture, knowing that He is "the same yesterday and today and forever" (Hebrews 13:8, NIV). God is love. That is unchanging truth. So, even when my circumstances and emotions tell me otherwise, I can trust that God loves me, that He will never leave me, that He will provide for me, and that He is at work on my behalf.

Hope for Eternity and for the Present

Because of Christ's resurrection on Easter, the disciples regained hope. So often, we use "hope" to mean little more than "good luck" or "best wishes." We give a friend a hug and say, "I hope you have a good day" or pat them on the back and say, "I hope you get that job you want" or "I hope your treatments work." We might as well be calling "heads" as we toss a coin.

Instead, because of Easter we have real hope for eternity. We can have full, confident assurance in what Titus 2:13 calls "the blessed hope--the glorious appearing of our great God and Savior, Jesus Christ" (NIV). When we are confident in our future with Him, we can look at our trials from an eternal perspective. Even our most prolonged trials that feel never-ending, fall short of eternity. Paul encourages us to keep that eternal perspective when he writes, "For our light and momentary troubles are achieving for us an eternal glory that far outweighs them all" (2 Corinthians 4:17, NIV).

Because of the Resurrection, we also have hope in the present. After all, nothing is too big for a God who has power over life and death. Jesus proved that no matter how bleak our physical reality looks and how much our five senses tell us God is not in control, He is still Lord and He can do all things.

It's More than We Can Handle

Instead of receiving hope because of who God is, we sometimes comfort each other with platitudes that are tacked onto Scripture. We often quote, "God never gives us more than we can handle," and sometimes we even turn it into a pat on the back, "I guess God thinks I'm strong because this is a lot and He never gives us more than we can handle." But, that isn't God's promise at all. The verse we are twisting is actually, "And God is faithful; he will not let you be tempted beyond what you can bear. But when you are tempted, he will also provide a way out so that you can stand up under it" (1 Corinthians 10:13 NIV). This is a very different promise! God promises we won't be tempted more than we can handle, but He doesn't assure us that life will always be manageable.

In fact, I can think of many times when I have been given more than I can handle, when the weight of this world is far too much for me to lift onto my shoulders. I've been crushed in the past trying to handle it all. In those times, God longs for us to turn all of our anxiety and heartbreak over to Him. He wants us to acknowledge that we can't control everything and that we desperately need His help. Our promise as we face the tomb is not that He won't give us more than we can handle, but that He can handle things when we can't. John 16:33 assures us, "In this world you will have trouble. But take heart! I have overcome the world." (NIV).

Our hope is in His strength and not our own. No matter how dark our circumstances, even when we are in the closed tomb with every sign of death, we can have hope that Christ demonstrated power over death on Easter morning. God, who conquered death and the grave, is working on your behalf in the here and now and in preparation for our eternity with Him. Instead of struggling to handle things on our own, we need to do something that is sometimes far more difficult--yield. Cry out to Him that this weight is more than you can handle, allow Him to carry the load, and have renewed hope in God's ability to care for you no matter how insurmountable the circumstances appear.

Prayer:
Father God, sometimes it's so hard to keep going and to have hope for the future. The circumstances I'm in seem impossible to overcome. It's just too much for me to handle. Thank You, that nothing is impossible with You. I give all of this to You and trust You to take care of my every need. I ask for your help and I receive it now. In Jesus' name. ~Amen~
Copyright © 2008-2015 Heather King
Read more about the writer: Heather King
---
Post Your Comment...
---