Dress Up Jeans in Style!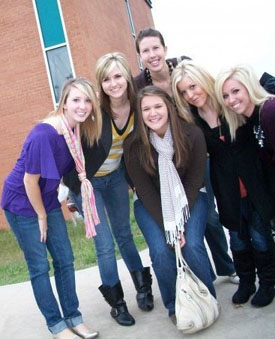 Jeans are both trendy and stylish! These days a variety of jeans are designed to allow women to be practical and look smart! But the tricky part is selecting just the right fit for you!

The first step in finding jeans that fit properly is to identify your body shape and then find the jeans that work best for that shape! Take a look at the following examples and find your shape and the style of jeans that work best for you!
The "Athletic" figure – This body shape usually has broad shoulders, toned arms, and square hips. The silhouette of the body is generally more square and muscular. 
Best pair of jeans: Look for jeans that help your stomach look flat. Low-rise jeans will do just that! Try it with a belt and a tucked in shirt. You'll find just the right fit. Stay away from baggy or oversized jeans!
The "Apple" figure – If the chest, waist, and hips are around the same six, you most likely have an apple figure. Generally having a larger middle and looking a bit rounder than all the other shapes. 
Best pair of jeans: With a round mid-section and longer legs, look for stretchy jeans without a tight fit. Jeans with a straight leg or boot cut leg will even out the apple effect.
The "Pear" figure – The prominent area of the body for this shape would be the hips and thighs. Usually with a pear shaped body, the bust is smaller and the waist is defined. 
Best pair of jeans: Hipster jeans (rides just below the waistline) will look the best on this body shape because there is not much material avoiding making the bottom look bigger than it actually is, which is always a plus!
The "Hourglass" figure – This body shape is curvy and has a small waistline. The hips and shoulders are about the same width. 
Best pair of jeans: Because of the small waist and larger hips, look for flare or bootleg cut jeans to re-direct attention to other parts of the body so that wait, hips and thighs look smaller. Stay away from stretchy jeans and you'll be golden!
The "Inverted Triangle" figure – Characterized by a full chest, waistline, and upper back. Hips and legs are generally smaller and with the broad shoulder, this body shape may look a bit "top heavy." 
Best pair of jeans: Low rise, thick-waist, boot cut jeans are your best bet! These will divert attention from your shoulders and bust, and show off your narrow hips! Lighter washes also put more attention on the thighs; however, a v-neck will also bring the eyes away from your shoulders.

What works for your friend, may not work for you, so keep that in mind! Have fun finding what works best for you and dress your jeans up in style!
Copyright © 2008-2015 Sarah Gwendolyn Marsh
Read more about the writer: Sarah Gwendolyn Marsh
---
Post Your Comment...
---