< Back to Kitchen Keeper Recipes
Squash Casserole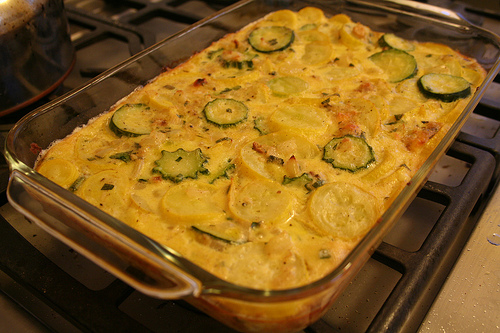 This dish is a family favorite around our house. It's easy to make and can be used as a main dish or side dish. Enjoy!
Ingredients:
Approx. 6-8 medium size yellow squash (zucchini works ok, or combine the two)
6-8 slices of bacon (can be omitted, but much more tasty if included)
1 – 1 ½ cups of mild cheddar cheese (more, if desired)
1 small yellow onion, diced
½ stick of butter, softened
1 cup of bread crumbs
1 can of evaporated milk (12 oz)
2 eggs
Directions:
Cook bacon, then crumble.
While bacon is cooking, quarter squash and steam to desired softness.
Drain thoroughly, and then gently smash with potato masher, leaving a few chunks.
Combine all ingredients in bowl, reserving some of the cheese to sprinkle on top.
Place in a 9 x 13 casserole dish. Bake in a preheated, 350 degree oven for about 30 minutes.
Copyright © 2008-2015 Decie Rowlands
Read more about the writer: Decie Rowlands
---
Post Your Comment...
---