< Back to Poems & Creative Writings
The Pain of Abused Children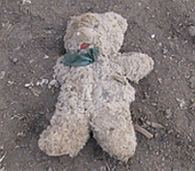 As I sat in a few, very discrete and very private sessions with parents of sexually abused children and listened to their stories, my stomached fill up with gut wrenching pain. As I went to bed on this particular night, I couldn't get the stories I had heard out of my mind. All that kept going through my head was fear, powerlessness, shame, guilt, and disgust, but most of all anger. In order to dump some of my pain and anger, I got up and started to write down my thoughts. After a couple of hours, I wrote these two poems
Where's my Mom
A Poem by Jo Trienen
I hate those words, it's time for bed
I beg for one more hour
Because I know when the lights go out
I haven't any power
I try to go to sleep real fast
And sometimes I pretend
Because I know, that he will come
And he is not my friend
He says he loves me, I'm his girl
He says that I'm real pretty
But I am so afraid of him.
The man that calls me sweetie
He touches me, he makes me scared
He wants me to be quiet
He tells me that he loves me
But somehow, I just don't buy it
I lie real still, I close my eyes
My Heart is really beating
I try to think I'm somewhere else
Oh God! I think I'm bleeding
He's finished now and off my bed
He turns and walks away
I swear as long as I'm alive
I'll make my Daddy pay
Innocence
A Poem by Jo Trienen
Our children bring their broken toys
To fix, so they can play
But how do we fix their innocence
That someone took away
You know that they're a gift from God
To love, protect, embrace
And scars that lie deep in their minds
Can never be erased
Some kids act out, some run away
Some even end their lives
The pain that makes their lives pure hell
Is cutting them like knives
You want to take their pain away
And put it on the shelf
But if you want to help your child
Protect them from yourself
You may think that I would understand better if this situation happened to me. However, I wasn't sexually abused, but one of my daughters was.
I taught all my children everything I knew about how to protect themselves, but I still couldn't protect her. No one could be harder on me then I was on myself. I felt like a failure as a mother. "How could this happen to me and my daughter?" I thought, and "Why didn't she tell me the moment it happened?" There were so many questions and very little answers.
After I got myself together, my first thought was, "I don't want anyone to know." There's the guilt and the shame. I was scared. I thought, "Would someone come into my home and take my little girl away because I couldn't protect her?" I felt powerless because although I taught my children what I thought they should know-I couldn't stop what happened. Disgust, I was disgusted with myself and if I was disgusted with me, what would others think of me. All these thoughts happened in about one hour's time.
Then it hit me all at once! "This isn't about me; it's about my precious little girl." What about her guilt, shame, fear, powerlessness, and disgust. "Thank You Holy Spirit!" I got on my knees and asked the Lord to give me courage, help me to lift my head through this, get my daughter the help she needed and to love her through it all.
I've shared all this to come to one very important part which is revenge. Healing cannot come from revenge. It's not for us to judge. Let the courts do the judging and trust God to take care of the rest. The Lord says that vengeance is His, not ours. I'm not suggesting you keep silent. What I'm saying is that this is a shameful and despicable act which you did not cause. You have choices now. Tell someone, anyone who will listen. Keep talking until someone takes you seriously. Get help from a counselor, pastor and yes even tell the police. God is a healer, He will see you through. I know this to be true, because He has seen us through.
Our story can now help others. Use your life to help heal hurting people. Don't forget the most important part: learn to forgive yourself. God did!
Blessings, Jo Treinen
Copyright © 2008-2015 Jo Treinen
Read more about the writer: Jo Treinen
---
Post Your Comment...
---