"Mommy-I'm-Bored" Syndrome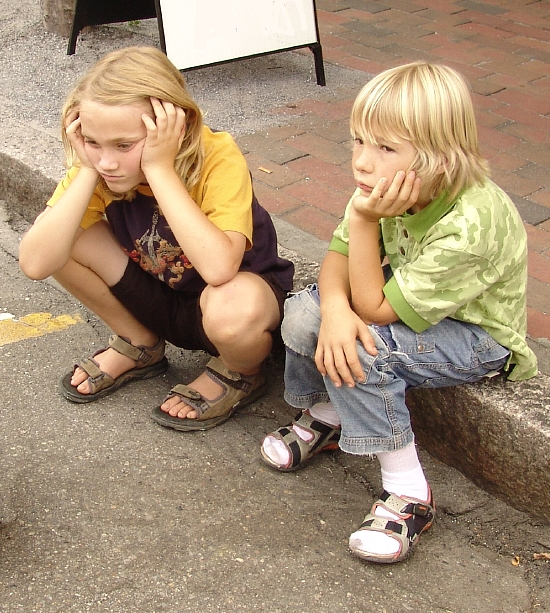 "Mommy, I'm bored!" Isn't this the universal summertime complaint?
How can we keep children occupied during the summer? Let's start with a stroll down my personal memory lane.
When I was growing up, summertime involved waking up an hour later, but still completing the expected chores of making my bed, making breakfast and cleaning up after myself. I then got dressed and either went around the corner to my friend's house to play or stayed home and found something with which to occupy myself.
Usually, I read. Since I loved to read, this also meant a once-a-week visit to the library. I vacuumed and dusted the house every week, so I didn't get to visit friends until after lunchtime on that day. We didn't go many places, but we were encouraged to use our imaginations and creativity, instead. We created carnivals and musicals, which we set up in my garage (charging just a penny per game for admission)!
When I became a homeschooling mom, I continued working with my children through the summer on reading and math workbooks—one hour on weekdays—just to keep up skills. I found resources at the local teacher's store.
I also planned field trips. We live in a rich historical area, so I took advantage of our proximity to Colonial Williamsburg, the Jamestown Settlement, Yorktown, and the James River plantations. Beach trips were also weekly events. And we typically visited out-of-state relatives for two weeks.
Summer is a great time to clean out closets, too. Your children could dedicate a part of each day for a week to work on cleaning out and organizing their closets. Divide the task into small jobs that they can successfully handle until the whole closet is organized. Talk about giving some items to charities, and follow through with a trip to one of your choice.
I enjoy gardening, so I helped my children learn how to care for the garden. This was "family time."
My goal was to show my children that we can enjoy ourselves without spending much money. It is also important to further teach our children two vital facts: First, it is no one's the duty to provide entertainment for them to passively receive and enjoy. It is better for each child to embark on a journey of directed self-discovery to uncover what gives them both enjoyment and satisfaction.
What worthwhile activities does your child enjoy? There are plenty of volunteer opportunities available. Urge your child to volunteer alongside you (example is a powerful teaching tool!) or, better yet, have your children discover his or her volunteer direction and participate alongside them. In addition to helping others, your child might discover a passion that leads to a career or a life-long volunteer opportunity. The virtues of kindness, mercy and selflessness establish themselves in your child's heart when these opportunities are regularly presented and reinforced.
The second vital fact we need to teach our children is to instill the virtue of intentionality.. A child must learn that active pursuit of achievement is better than passive receipt of entertainment. Part of this revelation concerns involvement in playing a game instead of sitting on the sidelines. This attitude will make a child more physically active, mentally alert and psychologically ready to both meet new challenges and adapt to change.
Instead of merely offering options, move back a step and involve your children in brainstorming to develop options. As they get older, include more factors, such as affordability (there's only so much money), research, and trip preparation.
My neighbor just discovered that the local bowling center has a "free" time during certain hours, so she signed her children up for a new sport!
Night is a perfect time to give your child a clean jar to collect lightning bugs, learn to identify constellations, or camp out in the backyard. Making ice cream sundaes is always fun, too!
At bedtime, you can establish the habit of reading to your children. Use age-relevant material, such as Peter Rabbit, The Chronicles of Narnia, or The Scarlet Pimpernel. No child is too young to enjoy this! My children loved to hear my squeaky-voiced but stout-hearted rendition of Reepacheep from Prince Caspian and The Voyage of the Dawn Treader.
Alternately, if you're not confident about your narration, listen to audio book recordings of cherished stories. One of our favorites is listening to JRR Tolkien personally read selections from The Hobbit or The Lord of the Rings (available on CD). Use this time to converse and discover information together with lots of hugs, kisses, and smiles.
In almost every moment together a child can learn naturally, through life experiences. In the summer, with a less stringent daily routine, make the most of these "learning moments" to teach your child(ren) not to run away from learning (as so many do), but to incorporate new knowledge into their normal routines so they will reap a lifetime of learning! Enjoy!
Copyright © 2008-2015 Patricia Stevens
Read more about the writer: Patricia Stevens
---
Post Your Comment...
---