< Back to Kitchen Keeper Recipes
Peanut Buttery Reece's Pieces Bars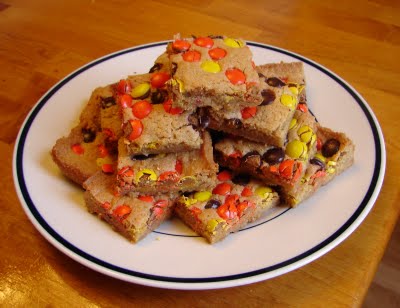 This candy recipe is super easy, fun and fast. Not only will the kids love it, you will too.
Ingredients
1 bag Betty Crocker Peanut Butter Cookie mix
1 8 oz block of cream cheese
1/2 cup of peanut butter
1 cup of whipped cream
1.5 cups of melted chocolate chips
Reece's Pieces
Directions
Mix cookies according to package.
Spray baking pan and lay cookie dough flat in the dish, poke holes in the dough with a fork so that it stays flat for a crust like bottom to the cookie.
Mix cream cheese and Peanut Butter until smooth, adding a tbsp of milk if needed to make it spreadable.
Cool cookie dough (may slip in the freezer if needed in a hurry), melt chocolate chips until smooth and spread on cookie dough.
Allow chocolate to harden.
Spread cream cheese mixture on top of chocolate and sprinkle with Reece's Pieces.
Cut into squares and serve
Variations to this recipe include using sugar cookie dough instead of peanut butter cookies dough and using Heath Bar crunches on top instead of Reece's Pieces.
This is always a crowd pleaser!
Copyright © 2008-2015 Sherry Norquist
Read more about the writer: Sherry Norquist
---
Post Your Comment...
---