< Back to Poems & Creative Writings
When Clouds Get Cozy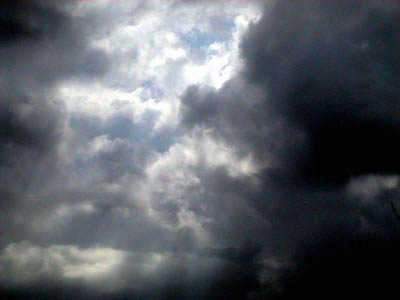 Our family loves rain…its smell, its sound, its refreshing aftertaste. Often our seven year old daughter, Renee, is our family's meteorologist, predicting when the rain will come. In fact, I'll never forget the one day a few years ago she proudly declared, "Mommy, I can tell it is going to rain."
"You do, honey? How is that?" I curiously asked.
"Because, look Mommy, the clouds are getting cozy." Sure enough…they were getting cozy…quickly pushing away any hint of blue sky.
Renee's clever description caused me to reflect on what we love about the rain. So I scripted this simple poem. Enjoy!
When Clouds Get Cozy
. . . experiencing God's rainfall through Renee's eyes!
by Cynthia Newman
It's going to rain, I know it.
I see it in the sky.
Come and run with me outside
And I will show you why!
Look! When clouds start getting cozy
And nudging side by side,
Their shapes start rearranging.
Voila, there's rain outside.
*Do you see that cloud? . . . A big, black, growly bear*
I taste some drops of honey
Raining sticky on my tongue.
This bear has tipped his honey pot,
Pouring down such sweet, sweet fun.
*I spy a bird . . . Standing on one leg*
Such a tall and funny bird,
A flamingo, I suppose.
Her fluffy, bright, pink feathers
Fall down tickling on my nose.
She gently bends her wavy neck
To dip in waters, cool.
How graceful is this tropic bird
Enjoying God's wading pools.
*A tree . . .Gigantic in the sky*
A twisty, twirly, gnarly tree
Whose branches are all bare,
Has dropped his crisp and crimson leaves
On gentle tufts of air.
Crinkle, crinkle . . . crunch, crunch . . .

*A beautiful petunia . . . Perfectly poised in purple*
I like this cloud . . . my favorite one,
By far, the best of all.
Her petals splash and twirl about
Like fragile dancing dolls.
I spin and dance a pirouette
With friends whom I've just met.
We jump in puddles everywhere
Until I'm soaking wet.
The rain has ended . . . the clouds have left.
Farewell to my new friends.
Can't wait to see what shapes you'll take
Next time the rain begins!
Copyright © 2008-2015 Cynthia Newman
Read more about the writer: Cynthia Newman
---
Post Your Comment...
---