Orphanages for Africa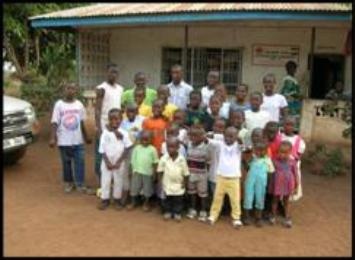 Religion that God our Father accepts as pure and faultless is this: to look after orphans and widows in their distress and to keep oneself from being polluted by the world.
James 1:26-27 (NIV)
Defend the cause of the weak and fatherless;
maintain the rights of the poor and oppressed.
Psalm 82:3 (NIV)
In October 2005, Catherine Evans, a licensed clinical social worker in the United States, started the organization Orphanages for Africa with "prayer, a donation of $100 and faith that God would sustain the ministry." Five years later, and the organization has now expanded into Canada and serves orphans in four African nations. With inspiration from George Muller, the 19th century evangelist famous for his orphanages funded only through the power of prayer, Orphanages for Africa seeks to care for the orphans of Africa, and show love in practical ways to the most destitute, hopeless and abused on the continent.
The work of OFA is done through partnerships with already existing churches and organizations in Africa. They believe in "African solutions to African problems" and currently partner with five organizations in Kenya, Sierra Leone, Uganda and Zambia, thereby caring for approximately 500 orphans.
OFA tries to meet the vast needs of these children by giving basic assistance like food, clothing, school fees, medical expenses, etc. Then, they also try to move each of their partners towards self-sustainability by providing entrepreneurial skills and ideas based on what works in their particular area. They are looking to give the African people a hand-up and not a hand-out.
Sometimes the mandates in Scripture that we as Christians look after widows and orphans and defend the weakest among us seem too much for us. How do we actually make that happen in our daily lives? Catherine Evans shows how one person with prayer and a vision from God can show Christ's love in practical acts of service to people in need.
If you would like more information about the work of Orphanages for Africa or ways to get involved, please visit their website: http://www.orphanagesforafrica.org/usa/index.php
Copyright © 2008-2015 Heather King
Read more about the writer: Heather King
---
Post Your Comment...
---