Whatever Happened to Cursive Writing?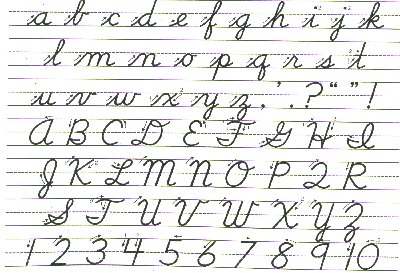 Have you noticed how certain subjects that we learned as children are no longer taught? Cursive penmanship is one such subject that is virtually nonexistent in modern curricula.
It is, therefore, up to the parents to teach their children both how to write their signature and how to read cursive writing from historical documents.
An article entitled "Cursive Writing is a Fading Skill, but So What?," reports that 26 percent of twelfth graders lacked basic proficiency in penmanship. In 2007, the College Board reported that only about 15 percent of test-takers chose to write the essay portion of the S.A.T. in cursive (the other 85 percent printed). It is my observation that while the students are to be neat, this is a college level test that should reveal the student's maturity and mastery of skills.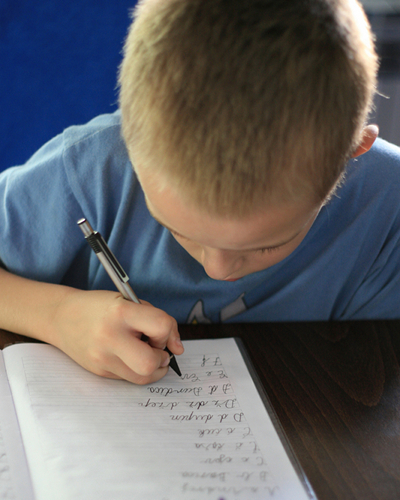 A Montessori instructor, Sharon Spencer, emphasizes cursive writing in her classes, since she believes that cursive writing is an art that "helps teach them muscle control and hand-eye coordination." The skill is called fine motor coordination.
Technology is changing the way we communicate. We have text messaging, e-mails, and word processing. This technology reduces the need to write letters. . .even greeting cards can be sent electronically! One might conclude (as I've heard young people tell me) that cursive writing is therefore a thing of the past, to be relegated with such antiques as dial telephones. My answer to this argument is that penmanship is still important. It is my opinion, that one area where people are judged by others (especially employers) is the ability to legibly write notes in cursive. Writing a note of thanks in a strong, clear hand may indicate as much about a person as a handshake.
There are a number of websites that provide downloadable cursive writing helps. If you are interested, search for "cursive writing" and explore the many writing styles available. When I was taught to write, we learned a basic cursive writing style, such as Zaner-Blosser. Nowadays, one has more choices, such as the D'neilean style. Enjoy teaching penmanship to the next generation, so that it doesn't become an extinct art or arcane knowledge.
Copyright © 2008-2015 Patricia Stevens
Read more about the writer: Patricia Stevens
---
Reader Comments...
2011-03-16 17:46:33
"Yes, I complety agree but I'm not very good at Cursive Writing at all."
- Patricia
---
Post Your Comment...
---