By His Grace
I was raised in a loving Christian family, and I was taught about God's grace from a young age. I knew God loved me no matter what, and He would help me through life's snags. Over time, I took this for granted. I re-dedicated my life to the Lord as a young adult, and returning to a close relationship with Him brought a level of grace I had never known. A particular event involving a job stands out in my mind as a tangible example of His grace.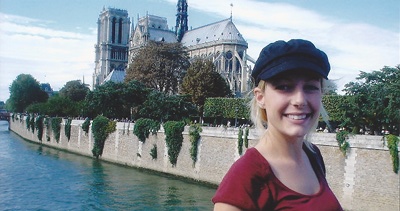 I had always dreamed of traveling the world, and when I discovered the possibility of becoming a flight attendant on private jets, I had my heart set on it. At that time in my life I wasn't adept at hearing God's voice, but I prayed and genuinely felt the Lord approved of my plan. I emailed my resume to the company and quickly received a response.
The next step was an in-person interview with the flight attendant coordinator, Jaclyn. She scheduled my practical exam, in which I would serve a meal to the owners of the company aboard a plane. I went home and prepared. I bought a new suit, heels, and a ton of catering supplies. I prepped appetizers and even molded butter into rosettes. I bought trays of chicken marsala and al dente pasta from a favorite local restaurant. When the time came to serve the owners, I would simply heat the trays in the galley oven…or so I thought.
The morning of the practical exam started out smoothly. I listened to worship music during the two-and-a-half hour commute to Los Angeles. "Voice of Truth" by Casting Crowns came on the radio, and my heart throbbed as I heard the words, "Out of all the voices calling out to me, I will choose to listen and believe the Voice of Truth." I felt the presence of God and a confirmation that He had His hand on me. I was sure that He would help me get the job that day. I knew the Voice of Truth was not setting me up to fail.
I felt great as I unloaded my car and stocked the plane. I put the flowers, newspapers and menu on the credenza. I set the table formally. I filled the icebox with ice and put sparkling water bottles in to chill. I had worked for an hour when the mechanics turned on the electrical power so that I could start the oven. As the oven heated, I finished plating the appetizers.
I was doing well when Jaclyn, the flight attendant coordinator, came to check on me. She beamed at my poise and told me she knew I would do wonderfully. I genuinely believed her. As Jaclyn turned to leave, she told me that she would meet with me after the meal to discuss how it had gone.
Alone again, I glanced at my watch. I had just enough time to heat the entrees. I pulled the cooking tins out of the refrigerator and opened the small oven door. To my horror, the inside of the oven was cool to the touch. I slammed the door shut and inspected the knobs again. Bake…check. 350 degrees…check. What was the problem?
Then I noticed a small "ON" switch that I had completely missed. There was no one to blame but myself for this mistake. I flipped the "ON" switch and shoved the cooking tins inside. My confidence drained and my hands began to shake. As tears threatened to fall, a Voice whispered, "I did not bring you here to fail."
Twenty minutes later, the owners strode aboard the plane. I smiled into their eyes and shook their hands firmly. Their sharp suits and brash voices intimidated me. They were the big time, and they knew it.
After taking a beverage order, I scrambled to prepare glasses of iced tea and Perrier. I felt scrutinized as I brought drinks and appetizers to the table. The owners proceeded to ask me questions as I served them. This was an interview within an interview.
"Rhema, are you interested in traveling?" asked one of the men.
"I have a voracious appetite for traveling!" I said. The very word "travel" sent shivers of longing down my spine.
Our dialogue continued as the owners ate the appetizers, bread (complete with the butter rosettes) and salad. When I had cleared the last salad plate from the table, I was forced to do the inevitable. I pulled the cooking tins from the oven and scooped ample portions onto the dinner plates. A furtive finger poke told me the food was lukewarm. I hoped my service with a smile would make the difference.
I slid a plate in front of each gentleman and scooted back to the galley, unable to watch anyone take his first bite. I quietly cleaned the counter and waited. My peripheral vision indicated that people were eating. That was a good sign.
Suddenly, all four men stood. "Well, we'd better get back to the office. Thank you, Rhema."
I smiled and nodded, and they were gone. I hadn't served dessert or hot towels. The cold food was so bad that they bolted before the service was complete. I hung my head and refused to let the burning tears fall. No, I would clean the mess and face Jaclyn's news of my fate.
It took me an hour to wash the dishes and clean the galley. I was nearly ready to leave when Jaclyn found me. She smiled kindly and a lump rose in my throat.
"Rhema," she said. "The owners mentioned that the food was not hot."
I couldn't choke out words so I nodded.
"Did you think the meal went smoothly?"
I shook my head as if to say, no, not exactly.
"Well…the owners were impressed with your service. You have a certain gracefulness about you. They believe that with training, you will be an asset to the company."
I nearly jumped for joy as Jaclyn reached out to hug me. It was unbelievable! I would become a flight attendant on private jets! I was in a glorious fog for the rest of the day. As I drove home, I prayed and thanked God for His provision. His grace had made a way, even after I had ruined things. Although the food was not hot, the owners of the company saw something in me that they liked. I am confident that it was God's grace shining through.
Perhaps all you see is the lukewarm meal—your blaring failure. Instead, be encouraged! The Voice of Truth sheds light on the reality that His strength is made perfect through our weaknesses. Your shortcomings provide an opportunity for his goodness and power to shine through.
Oh how He longs for a relationship with us! When we walk by His side, He can work in the big moments and in the little moments of our lives. He brings peace in traffic. He brings appropriate vocabulary in a job interview. He brings a cool touch to burning tears. He enables us to succeed by His unending grace.
To this day, He plants dreams and wishes in my heart, as He does in all of us. In every moment of our lives He is moving and orchestrating events for His glory and to bless His children. His hand holds us fast for He loves us more than we can conceive.
"And God is able to make all grace abound to you, so that in all things at all times, having all that you need, you will abound in every good work."
2 Corinthians 9:8 (NIV).
Copyright © 2008-2015 Rhema Peet
Read more about the writer: Rhema Peet
---
Reader Comments...
2011-10-04 08:05:15
"Rhema, I LOVED your devotion. I was drawn to yours when I saw the picture of France. I have a real heart and call for the French and also love travel as well."
- Kari
---
Post Your Comment...
---