< Back to Kitchen Keeper Recipes
Sock-It-To-Me Cake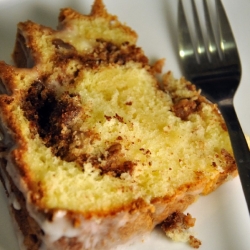 This recipe is from my cousin Tony Chachere. The name says it right! It's delicious! A special treat for the holiday season!
Ingredients:
1 box yellow cake mix ( butter flavored)
3/4 cup canola oil or vegetable oil
1 cup chopped pecans
1/2 pint sour cream
1 stick butter
2 tablespoons sugar
1 tablespoon powdered cinnamon
Directions:
In a large mixing bowl, blend together the cake mix, oil, and butter.
Beat in eggs one at a time and beat according to directions on cake mix box.
Fold in sour cream and pecans.
Pour half the batter in a tube pan or Bundt pan.
Sprinkle sugar and cinnamon over batter in the pan, then cover with the rest of batter. Do not stir.
Bake at 350° for one hour. Test with a toothpick before removing from oven.
Cool in pan for 5 to 10 min. Turn over on to cake platter.
(Time may vary with different ovens)

Milk Glaze:
1 cup powdered sugar
1 teaspoon vanilla
2 tablespoons milk
Blend ingredients together. Drizzle over cake while cake is still warm.
Copyright © 2008-2015 Sharla Chachere Costelow
Read more about the writer: Sharla Chachere Costelow
---
Post Your Comment...
---