God's Gift of Gingerbread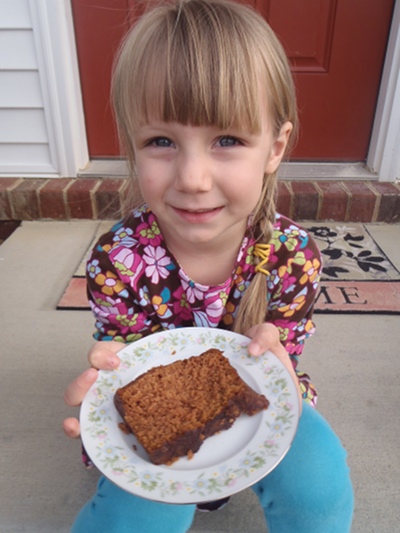 My daughter, Gwen, was diagnosed with celiac disease over a year ago, and it has been challenging to keep baked goods for her on hand. The daily tasks involved with raising two kids take priority over baking experiments…especially since gluten-free baking often yields inedible results (ask our dog, Marley)!
Over the past few months, we have discovered that our neighbor has celiac disease as well, and she coincidentally has a daughter Gwen's age named Guinevere. At random, our doorbell will ring, and there will be Guinevere holding freshly baked gluten-free treats for us.
This act of kindness is a wonderful example of how God knows everything about us, and He loves to bless us. I can feel His love each time we receive a gluten-free treat from our neighbors…this is something made specifically for us that can't be bought in a store.
The gluten-free gingerbread is our favorite; it's flavorful, moist, and completely indulgent! The recipe belongs to Elizabeth Barbone, author of a wonderful gluten-free cookbook and website: www.glutenfreebaking.com.
May you enjoy this delicious gingerbread as you celebrate the season!
Dry Ingredients
1/2 cup white or brown rice flour
1/2 cup sweet rice flour
1/2 cup potato starch
1/2 cup granulated sugar
1/2 teaspoon salt
1 teaspoon baking soda
2 teaspoons ground ginger
1/2 teaspoon nutmeg
1/2 teaspoon ground cinnamon
1/2 cup apple cider or water
1/2 teaspoon xanthan gum
Wet Ingredients
2 large eggs
1 cup molasses
1/2 cup vegetable oil
1/2 cup apple cider or water
Directions:
Preheat oven to 350 degrees F. Spray five mini-loaf pans with non-stick cooking spray. Place loaf pans on a baking sheet.
In bowl of stand mixer, whisk together dry ingredients. In small bowl, whisk together eggs and oil. Pour egg mixture and oil over dry ingredients. Blend until combined, about 15-20 seconds. Divide batter evenly between prepared loaf pans. Bake for 30 minutes or until a cake tester inserted into the center of the bread comes out clean.
Remove pans from the oven. Allow bread to cool in the pan for two minutes. Turn bread out onto a wire rack to cool completely.
Makes five loaves.
Copyright © 2008-2015 Rhema Peet
Read more about the writer: Rhema Peet
---
Post Your Comment...
---