What Are You Preparing For?
If anyone had told me that I'd travel to India in 2012, I would have laughed. My kids are small and we live far away from family. I have responsibilities at home, at church, and in the community, and I'm a college student, too. Obviously, a trip overseas would be out of the question … or so I thought.
The Lord has put mission work on my family's heart, and we are honored to sponsor several children and missionaries in Asia and Africa. We pray for our "kids and missionaries" often and we love to write and receive letters from them. Our connection with a prominent missions organization resulted in an offer for my husband and me to take a tour to see God's work in India.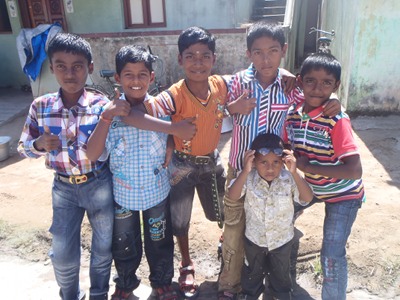 My husband is active-duty military and it would be difficult to get clearance for him to travel to a third world country. Although he knew it was out of the question for himself, he immedaiately thought I should go. He knows I love to write and this trip would give me a new global perspective and powerful stories to share. The idea was exciting, but I was hesitant.
If I left for two weeks, my husband would have to take leave and watch the kids around the clock. We mommies know that this is not for the faint of heart! Would he remember to give baths and brush teeth? Would he get Gwen to school on time? And would the kids feel abandoned without me? I wasn't sure.
I asked the Lord to make it crystal clear to me if I was to go. Within a few days, I had received a Bible passage from Him via several friends, my personal Bible reading, and through a daily devotional (He really likes to prove His point!). The Scripture was Mark 10:29-30:
"Truly I tell you," Jesus replied, "no one who has left home or brothers or sisters or mother or father or children or fields for me and the gospel will fail to receive a hundred times as much in this present age: homes, brothers, sisters, mothers, children and fields—along with persecutions—and in the age to come eternal life."
Now, this was fairly convincing, but I needed more proof that God wanted me to go. The answer came a week later as I opened our mail. The missions organization had sent paperwork for the India trip and a request for a $500 deposit to hold my spot. In the same batch of mail was a card from a relative of mine. The card read "For You" and it contained a check for $500.
Tears streamed down my face as I laughed, "Wow, sorry, Lord. Did I really need for you to be that literal with me? We'll have to work on that!" From that moment I knew in my heart that God truly was calling me to India.
The past month and a half has been a time of preparation for the trip. Documents had to be signed, notarized, faxed, and mailed. I updated my passport and got an India visa. Last week I had six inoculations as my glowering toddler son looked on. It was so cute to see his protective scowl as the nurse pumped my shoulders full of tetanus, typhoid, rabies, and other vaccinations
While planning my wardrobe and other necessities, I've understood the importance of preparation. If I don't have the proper clothing, vaccinations, and cultural education I could hinder the group and potentially find myself in a life-threatening situation. I must seriously consider every tidbit of information that I've been given, and most importantly, I must cover the trip in prayer
The intentionality with which I face this India trip is a perfect analogy of our lives in Christ. We must intentionally seek Him…not because we should. Not to avoid a guilt trip or to prove our worth. We must seek Him so we can do what He's asking us to! He loves us so much that He gives each of us a vital role in advancing His kingdom on earth.
The Lord has exciting news for you in the New Year. I am not the only one with a life-changing call in 2012. He is waiting to share His plan with you, if you will listen. Let Him put His plan on your heart. Let Him prove to you that it really is Him speaking. Ask Him how to prepare for His plan. The preparation might be painful, tedious, and challenging, but it is worth it. His plan for you is something that will knock your socks off! He made you the way you are, whether you are a singer, a traveler, a writer, an encourager, a prayer warrior, and so on. It is so satisfying to use your gift for His purpose!
Perhaps you're in a new phase of life; maybe you're a student or an empty nester. There is no better time to press into the Lord for your "new orders." Remember that the Bible says if you draw near to the Lord, He will draw near to you. That is a promise that you can take Him up on! Let's challenge ourselves in the New Year to take the time to draw near. Let Him give us His direction. Matthew 7:7 says, "Ask, and it will be given to you; seek, and you will find; knock, and it will be opened to you" (NKJV). Perhaps you feel that this is over-quoted, but ask yourself, do you believe this? I sure do!
In a couple of months, I will write an article about my experience in India. I am excited for what God will do during the trip, but at the same time I am excited for YOU. I believe that you will receive His message and I anticipate the great things He will do through you, His cherished one. May you be blessed with a divine download that will begin the preparation process for your call!
"See, the former things have taken place, and new things I declare; before they spring into being I announce them to you" Isaiah 42:8-10 (NIV).
Copyright © 2008-2015 Rhema Peet
Read more about the writer: Rhema Peet
---
Post Your Comment...
---