Your Hands Are Divine Instruments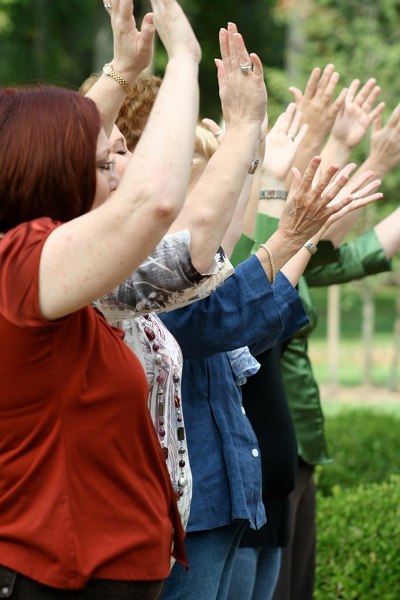 Join me as I take you into a personal entry from my journal:
"Today was Day 16 of our church-wide 21 Day Fast. Our prayer focus was "Tarry." We must come away to be with the Lord, because intimacy takes time to develop. When we empty ourselves, especially in times of prayer and fasting, we are more sensitive to hear the Lord's voice more clearly. That is when He can make known to us His plan and purpose----Jesus modeled for all mankind the significance of getting away from everyone and everything in order to spend quality focused time in prayer with our heavenly Father. After such intimate communion with God, Jesus often performed many signs, miracles, and wonders. We can learn a valuable lesson from His example and daily way of life."
Early that 16th morning of my fast, as I was spending quiet time before the Lord, I began to journal what was happeningin my heart.
My Declaration and Decree:
"Everything I lay my hand to (work, writing, prayer, laying on of hands, creating with my hands, touching, loving, etc) will prosper and bless others!"
Immediately I was surprised and delighted when I received a personal word from the Lord that bubbled up in my spirit.
What was so beautiful was that Holy Spirit knew what would take place that night at church in Bible Study. After Pastor Sam finished teaching on the gifts of the Holy Spirit, he had everyone come to the altar to have their hands anointed with oil to receive the gifts. How exciting to know that God was literally anointing my hands to do the very thing He led me to pray, declare, and decree, that very morning.
This was the Word of the Lord to me:
"Your Hands Are Divine Instruments"
"See your hands in a greater light than even just writing, but everything they touch for good I will prosper. Your hands are anointed and consecrated unto Me, for they are part of My own body. Your hands are divine instruments and an extension of My great and eternal love for all mankind. So "see" everything you do with them as an extension of My love. If it is not something I would do then don't do it.
"Choose wisely in every facet of your life what you do with your hands. You just got the revelation in your heart that your hands, part of My body, will enable and direct you to fulfill My two greatest commandments: You shall love the Lord your God with all your heart and all your strength, and you shall love your neighbor as yourself.
"This encompasses the three people groups: The Lord your God, your neighbor (others), and yourself. My Word says, 'If you love Me, keep My commands.' John 4:15 (NIV). When you do that you honor Me and others, including yourself. This covers it all, just like I did when I so loved the world that I gave My only Son.
"When you love like Me and love as an extension of who I Am, you will be satisfied. You will live the abundant life I promised. With Me and My love as the central focus of your life fixed in your heart, what will manifest is an expression of My love through your hands of blessing, in infinite ways.
"You are getting the full scope of the picture of My love: from and through My hands, to and through yours, to others. It was the nail pierced hands of My Son Jesus that brought eternal life to all mankind. They brought everything that pertains to life and godliness. What man chooses to do with it is his choice. However, make no mistake about it, whatever a man, woman, or a child, does with their hands represents their life, for good or bad.
"When you truly start seeing your hands as the divine instruments I ordained them to be, then it will effect and inform everything you do in life. Will they bless or curse Me, yourself, and others? How you "see" your hands will effect what kind of steward you are with the time, talent, treasure, and temple, you have been given. How will you manage, treat, and care for these four things?
"Take My hand and I will guide you through life and the life to come, forever more. There is nothing to fear when you place your life in My hands. Allow the full extent and expression of My love to manifest in you and through you. It is a glorious thing and you shall surely be fulfilled.
"I have royally and supernaturally blessed you to be a blessing. Now, go forth rejoicing, knowing I have sent you for a purpose. Touch the world with your one-of-a-kind handprints, so the world will know the Great I Am, Who is love, has sent you, so they can know and love Me and have eternal life!"
An Encouragement For You
Our hands represent our lives because they are involved in every facet of life. I encourage you to take some time to be still before the Lord. Allow Him to speak and reveal to you just how divine your hands truly are for His unique plan and purpose for your life. No person or assignment is insignificant in God's eyes.
My Prayer For You
"Father God, I pray that you will reveal to each and every reader, by the power of Your Holy Spirit, the significant and divine plan and purpose You have for their hands and life. Help them to see You have consecrated them for Your glory, in Jesus name. Amen."

I cordially invite you to visit my blog, "God Whispers," at: www.Nancy777.com. Please feel free to comment and share this link with your friends. I pray you will be blessed.
Copyright © 2008-2015 Nancy Slocum
Read more about the writer: Nancy Slocum
---
Post Your Comment...
---