Be A Duck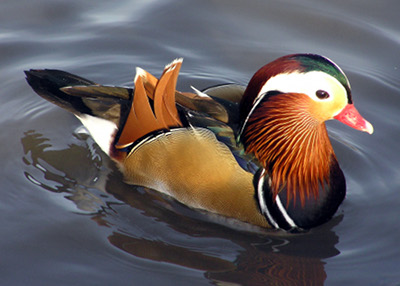 Teen years and middle school especially can be tough, if not torturous for some. We can't be with our kids all the time and we can't protect them from hurt but we can teach them truth and try to arm them on a daily basis. Before your kids leave the house, remind them to "be a duck" as they navigate this world on their own without us by their side.
The old saying goes, "like water off a duck's back." You see, duck feathers are quite oily and therefore won't allow water to penetrate through their delicate skin. Water literally falls off a duck when it gets splashed. This is what allows a duck to stay afloat for long periods of time without getting water-logged. If a duck's body were able to absorb water, this would potentially cause its body temperature to drop and could create an opportunity for sickness. The feathers create a barrier from cold and wetness and potential sickness and death.
People, teachers, friends, enemies, and even family can sometimes penetrate our delicate spirits with the things they say to us or about us. They may not even realize what they are doing but it's as if they have this hose turned on, with a hard pressure spray of water, and it's aimed right at us. They speak harmful lies into our lives without ever thinking of the consequences or the damage they might be doing to our souls.
" You (the lost) belong to your father, the devil, and you want to carry out your father's desires. He was a murderer from the beginning, not holding to the truth, for there is no truth in him. When he lies, he speaks his native language, for he is a liar and the father of lies" (John 8:44 NIV).
If he can, Satan will use anyone around us to destroy the truth that the "true father," (Jesus) wants each of us to know and believe.
God's Word says:
-He chose me: "For he chose us/me in Christ before the foundation of the world that we may be holy and unblemished in his sight in love." (Ephesians 1:4)
-He made me: "I praise you because I am fearfully and wonderfully made; your works are wonderful, I know that full well." (Psalm 139:14)
-He made us bold: "In whom we have boldness and confident access to God because of Christ's faithfulness." (Ephesians 3:12)
-He trusts and strengthens me: "I thank Christ Jesus our Lord, who has given me strength, that he considered me trustworthy, appointing me to his service." (1 Timothy 1:12)
-He is my father and he loves me: "See what great love the Father has lavished on us, that we should be called children of God! And that is what we are!" (1 John 3:1)
Let's arm our children with the truth. Find and read scriptures to your children that will create a barrier around their fragile souls. Tell them to, "be a duck"! Don't let lies penetrate their souls or change who they were designed to be.
Tell them, "Let it roll off your back (son) and down to the pit of hell where all lies belong."
Copyright © 2008-2015 Christina Messer
Read more about the writer: Christina Messer
---
Post Your Comment...
---