< Back to Kitchen Keeper Recipes
Date Nut Pudding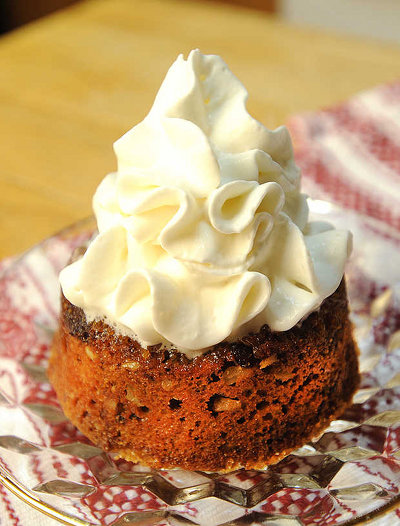 This is a celebrated family tradition served during the holidays or anytime! It's not really a true pudding per se. It's more like squares with a gooey rich texture. It's good as a dessert, but we serve it with the meal. Enjoy!
Ingredients:

3 beaten eggs
1 Cup sugar
¼ Cup flour
¼ Teaspoon salt
1 teaspoon baking powder
1 Cup dates ( pitted and cut into small pieces w/ scissors or knife)
1 Cup chopped nuts, walnuts preferred (pecans work also)
1 Teaspoon vanilla extract
Directions:
In a medium sized mixing bowl, beat eggs and sugar with hand mixer until light.
Add sifted dry ingredients just until blended.
Stir in dates and nuts.
Turn into greased 8-inch square glass or metal pan and bake in a larger pan of hot water.
Bake in 350 degree oven for 45-55 minutes or until lightly browned on top. If necessary, put foil loosely on top near the end to keep from darkening too much.
Cut in squares and flip upside down so sticky side is on top. Serve warm with whipped cream on top.
Notes:
You can't really test it for doneness. A slight crust forms on the top and it's gooey like bars on the bottom. Sometimes the crust cracks and that's okay.
For a larger group, double the recipe and put in a 9 x 13 pan. Bake the same.
Copyright © 2008-2015 Nancy Slocum
Read more about the writer: Nancy Slocum
---
Post Your Comment...
---