< Back to Kitchen Keeper Recipes
Chocolate Sauce (For Hot Fudge Sundaes)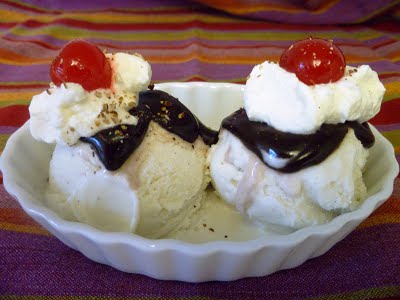 This is an old family favorite. A quick, simple and delicious dessert for the sweet tooth! I believe we originally found the recipe on the back of the Hershey box.
Ingredients:

2 individually wrapped squares of Hershey Unsweetened Chocolate or Baker's Unsweetened Chocolate.
6 Tablespoon water
½ Cup sugar
Dash salt
3 Tablespoons butter
1 Teaspoon vanilla extract
Directions:

In a small pot, melt chocolate squares in 6 tablespoons of water over low heat. Stir with a wooden spoon until smooth.
Add 1/2 Cup sugar and dash salt. Cook and stir until slightly thickened.
Remove from heat and add butter and vanilla. Stir until melted and smooth then pour into a small pitcher or jar.
Notes:
Makes about 6 servings. It can be stored on the counter or in the refrigerator.
Create your favorite sundaes with your choice of flavored ice cream. Pour on chocolate sauce while warm or heat up later. Add nuts, whipped cream, bananas, cherries, etc. as desired.
Copyright © 2008-2015 Nancy Slocum
Read more about the writer: Nancy Slocum
---
Post Your Comment...
---