Grocery Store Smarts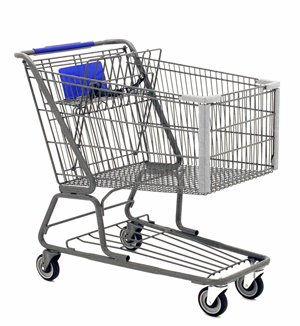 I didn't understand it at all. Everything on the conveyor belt at the grocery store checkout had been there hundreds of times before. I hadn't bought anything different than normal. No change in eating habits. No super sizing, buying expensive brands, or splurging on snacks.
And yet, my monthly budget for groceries was expanding little by little. I was frustrated with myself and knew that I needed to take some serious action. We may hear about it all the time, but the reality is that rising food prices at the grocery store may need to start impacting what we buy and how much. I couldn't shop the same way and expect to spend the same amount now that everything cost more money.
It was time to get smart about grocery shopping. Here are some basic tips that have helped me trim the budget back down. You may be doing all this already. If so, great job! If you're looking for some fresh ideas, I hope this helps, but remember that this isn't always easy. Getting grocery store smarts sometimes takes effort and discipline.
Pray before shopping. For a minute or two before I enter the store for my weekly round of shopping, you'll find me in my car praying. I ask God every week to help me be wise about what I spend, help me be disciplined, help me remember what I need to buy, help me find good deals and be a good steward of the money He's given us.
Make a plan. Meal and grocery list management tools abound. If you want to get complicated with charts and rotations and monthly meal planning, you certainly can.

Me? I like to keep it simple. I use a plain-old spiral notebook to keep track of my grocery list. As soon as I come home from the store, I start a new list on a fresh page (of things I forgot!!!).

On the right side of the shopping list, I list the days for the upcoming week and the meals I want to make each day.

I think of nights we'll be out at after-school activities, meals at church, get-togethers with friends, days I'll be too busy or stressed to make a big dinner, etc. I was proud to go a year without calling the pizza guy for a delivery and rushing out to the fast food joints isn't in my vocabulary.

I double-check the ingredients for the meals I plan to make, print off newer recipes if I think I'll forget something and scan the pantry and fridge for what I already have on hand.
Fine tune the list. I spend more money when I see more things that I "need" or "could use." So, when I can (and it doesn't happen all the time), I make sure my shopping list is organized according to the way I usually walk through the store. Personal care items first, then cat food and cat litter, baby supplies, dairy, etc. It makes shopping faster and avoids meandering the aisles of the local Wal-Mart or grocery store chain.
Match up the coupons. One of my most relaxing Sunday afternoon activities is clipping coupons from the Sunday paper.

I'm not an extreme couponer. I don't have the time, energy or storage space for that. Nor do I shop at three different stores each week trying to save a dollar or two (gas costs money, too, right? ) But, I absolutely clip coupons for the items I'm already going to buy, which saves me about $40 a month on groceries. These are simply coupons from the paper or ones I've printed from couponmom.com.

I place a small dot next to the items on my grocery list that match up with one of my coupons so I don't forget to use it. In my coupon organizer, I have an empty pocket in the front where I place coupons I absolutely intend to use that week to avoid as much digging through the envelope as possible.
Don't be fooled. Thinking I was being frugal and savings savvy, I tried keeping up with all of the local sale ads for our grocery stores. Big mistake for me. The truth is, I shop at the cheapest store in my area. Sales prices at the other grocery stores may sound appealing and look great in their bright colorful ads that scream "Spend money here!!!! Deal!!!! Sale!!!!"

Dollar stores also can be tricky. You think you're saving money because it's at a dollar store and yet some of their prices are no better than those at the local Wal-Mart.

The truth is I've been fooled many times. I've bought an item on sale at a store or bought something from a dollar store only to realize the regular price for that exact same item at my normal store is still cheaper. Unless it's a Buy One, Get One sale, it's usually not worth me shopping anywhere other than my usual inexpensive shopping place.
Keep a running tab. This is what finally made me realize where the money was actually going at the grocery store. I knew for a fact that I had spent $1 on a particular snack for my husband's lunch. Until I kept a running tab, I never realized they had raised the price of that snack to $1.28. These kinds of sneaking price raises were tripping me up. I wasn't changing what I was buying. The store, however, was changing how much I had to spend to buy the same old things.

So, back to my trusty old notebook. On the left side of the shopping list in my spiral notebook, I now keep a running tab of how much I think I'm spending at the store. Item goes in the cart, price gets added into my total. I round up or down as appropriate in order to average everything out and leave some room for tax. By the time I make it to the cashier, my bill shouldn't be a surprise. I also am now more aware of what products have raised their prices and know exactly when it's time to look for an alternative.
Learn from your mistakes and show yourself grace. I get this wrong a lot. I forget something at the store. I get stupid and make an impulse buy. I shop with my kids and let them talk me into Cheetos. I lose my coupon or buy something one week only to get a coupon for it in the next week's paper.

I could belittle myself and dwell on my mistakes. Or, I can show myself some grace and learn new lessons as they come. Ultimately, the mistakes help me make better choices next time.
Of course, we're not perfect. Yet, I believe God honors our efforts to manage the money He's given us and be wise providers for our family. We ask for His help and we remain teachable in order to do our job better and better all the time. That's how we shop smart. We can be proud of that!
To read more about Heather King and her latest devotional thoughts, check out her blog here: http://heathercking.wordpress.com/
Copyright © 2008-2015 Heather King
Read more about the writer: Heather King
---
Post Your Comment...
---