< Back to Kitchen Keeper Recipes
Simple Crock Pot Beef Stew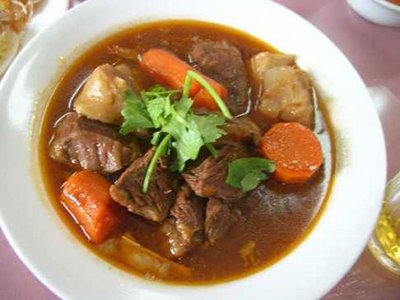 A lady from our church served up this totally tasty and extremely simple Crock Pot beef "stew" at one of our church gatherings. It's great for entertaining because you don't have to tend it much at all. It's wonderful to share with lots of people and it's perfect when you need a meal for your family and you don't have a lot of time to make it.
Ingredients:
1 Chuck roast(stick with the chuck tender roast. Other, better cuts of beef won't flake to the fork after cooking).
1 can of beef stock
1 can of stewed tomatoes
A handful of fresh diced carrots or frozen carrots
Three medium potatoes
Directions:
Sear chuck roast on the stove, enough to brown each side of the meat.
Place roast in the Crock Pot with the carrots. Pour in beef stock and tomatoes.
Simmer on low for 6-8 hours---long enough for the meat to shred on its own or when pulled apart by a fork.
Peel and cube potatoes and add to the Crock Pot for the last half hour or so of cooking---until the potatoes are fork tender.
We serve this tasty dish over rice and with some freshly made rolls or bread. It's my go-to dish on a cold and rainy day!


To find out what's happening in Heather's kitchen or read devotional thoughts, check out her blog here: http://heathercking.wordpress.com/
Copyright © 2008-2015 Heather King
Read more about the writer: Heather King
---
Post Your Comment...
---