< Back to Kitchen Keeper Recipes
Mediterranean Potato Salad
I enjoy cooking the basics with a tasty twist. The following is a potato salad with a mustardy vinaigrette...a possible side dish if you're serving ham for your Resurrection celebration meal. Enjoy.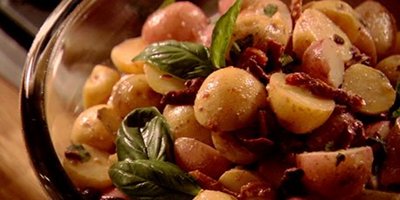 Time: 45 minutes with pre-cooked eggs. Makes: 4 servings
Ingredients:
1 pound waxy or all purpose potatoes, peeled and cut into 1-inch chunks. (I prefer to not peel them)
Salt
1/2 pound fresh green beans, trimmed and cut into 1-inch pieces.
2 tablespoons any wine vinegar, or more as needed
1/2 cup olive oil, or more as needed
1 teaspoon minced garlic
1 small shallot, minced
1 teaspoon Dijon-style mustard (I used to live in Dijon and think, for the price, French's brand is one of the best stateside)
Freshly ground pepper
Parsley (preferably fresh)
2 hard-boiled eggs, sliced or chopped
1/4 cup pitted black olives, chopped
1 pint cherry or grape tomatoes, halved
Feta cheese
Directions:
1. Put potatoes in large pot with enough water to cover them by 1 inch or so; add a large pinch of salt. Bring to a boil, then lower the heat so the water bubbles gently. Cook the potatoes until they are just beginning to get tender, about 5 to 7 minutes. As soon as you can insert a knife easily into the potatoes but they're not quite ready to eat, it's time to add the green beans.
2. Cook until potatoes are tender but still firm and not at all mushy, and the green beans are brightly colored and crisp-tender, another 3 to 5 minutes. Drain in colander, rinse with cold water for 1 minute, and drain again.
3. While potatoes are cooking, put the vinegar, oil, garlic, shallot, and mustard in a large bowl and whisk to combine. Add salt, ground pepper and parsley to taste. Add potatoes and green beans along with the eggs, olives and tomatoes and toss gently. Generously sprinkle with feta cheese. Taste and adjust the seasoning and serve.
Tips:
* Waxy potatoes - the kind with thin red or white skin - are ideal for salads because they keep their shape better than higher-starch potatoes.
* For a drier texture, return the drained potatoes and beans to the empty hot cooking pot for a few minutes to dry.
Copyright © 2008-2015 Cynthia Newman
Read more about the writer: Cynthia Newman
---
Post Your Comment...
---