Believe
Our faith is challenged when we pray for healing and it doesn't come. My sister dealt with pain, chemotherapy and uncertainty, yet she never gave up hope. Like Jesus, she ultimately surrendered to the Father's will. I remember her saying that she was just like the three Hebrew teens that were about to be thrown into the fiery furnace. They declared, "Our God will deliver us, but even if He doesn't, we will not serve your gods!" (Daniel 3) All through her home you could find the word "Believe" on her beautiful décor--a reminder of the God in she trusted.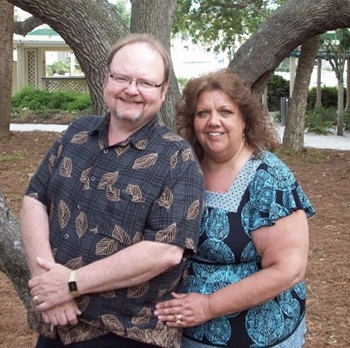 It was last Easter that I shared her story, Living with a Death Sentence. She battled cancer for four years and nothing more could be done. When her doctor gave her that news, she thanked him for all he did to help her, and he cried. He marveled at her strength, which she always attributed to her trust in Jesus and His promise of heaven. Today I want to share the rest of Debbie's story.
One of her dreams was to take her granddaughter to Disney. The trip to Florida was set for May, and she would be back in time for the graduation of her Kindergarten class (yes, she was still teaching!). Debbie was concerned about finishing the Graduation Memory Books for her class before the trip, so I was blessed to visit her at the school and help her complete them in April. Her skin and the whites of her eyes were now yellow. She was growing weary but still pressing on. I didn't allow myself to consider that I may not see her again, but I wept with heaviness in my spirit as I drove home to the Poconos.
Our younger sister lives in Sarasota, Florida—just two hours from Disney. It was the perfect opportunity for Debbie to visit Darla's family and worship at Church of Hope, where she and her husband are Pastors. It was tough for Darla to be so far away during Debbie's illness. She would call Debbie each week during her chemo treatment to encourage and pray with her. The visit was bittersweet, quite certain it would be their last.
The Disney days were magical—special memories unfolded with Jeremy, Laura and four year old Stella. By Thursday she let George know that she was having increased pain and some physical changes. They called hospice and were referred to the local hospital. After flushing her system on Friday, they had hopes to fly home the next day. However, the doctor delivered the shocking news that she was in complete kidney failure. The airlines would not permit her to fly and he believed she would not make it home or even through the next day. George made arrangements for his other son Jon to fly down immediately from Pennsylvania and the rest of us did what we could—we prayed.
Lying in the hospital bed, Debbie looked at George and told him that she wanted to go home. He thought she meant home to Pennsylvania but she explained further "George, I want to go home to heaven." He wept…because nothing really prepares you for the moment when you realize that your spouse is going to leave you. George was able to convince the hospital to release her with the advice and wisdom of a hospice nurse. He rented a van that had seats that folded down in the floor, bought an air mattress, sheets, blanket and pillows and was determined to get the Love of his life home.
By the time Jon arrived by plane that afternoon, they told him they were taking a road trip with Mom. So George, Debbie and their two sons left for Pennsylvania, with a very emotional goodbye to their granddaughter and her Mom, Laura, as well as Darla and her husband Scott.
It was a challenging trip, to say the least. Debbie was laid out on her air mattress. George was on the floor next to her with little room and Jon and Jeremy took turns driving. They were determined to grant her desire to get home and so decided to go straight through, with quick stops for gasoline, food and bathroom breaks.
They encountered some medical complications—Debbie's outflow tube became blocked which was causing her great pain. With the phone advice of the same wonderful hospice nurse, they knew what they needed. They went to several drugstores but with no avail, so they were forced to find a hospital, which could mean hours of delay.
George went into the emergency room and explained that his wife could not be admitted but he needed a catheter syringe and he needed it immediately. He had hoped that they could make the correction in the van but ended up needing to get Debbie inside and asked for help. They opened a room for her immediately and the doctors and nurses were able to get the tube flowing again. God's favor was with them and they were in and out of the hospital in less than two hours!
Back in Pennsylvania, our family had gathered to be with her upon arrival. The trip took much longer due to the complications, so we waited and kept in touch with George by phone. Early that morning, my husband had a vision during our morning worship service. He saw the entire length of the trip from Florida to Pennsylvania and there were thousands of angels lined up on both sides of the road. It was like a parade and they were trying to see into the van as if a dignitary was going by.
Visions are not a common occurrence for Charles and I was wondering if I should tell George. Late in the afternoon he called and was discouraged, thinking that Debbie was not going to make it home. He feared that she died several times, but then she would awaken again. I decided to tell him about the vision. He told me later that it wasn't a great connection and he honestly didn't think anything of it.
Shortly after we spoke Debbie woke up, started to talk and asked who all the people were. George told her there were no people and that they were still in the van with their sons driving home. At this point, they were in the Tyson's Corner area of DC where there are many overpasses, and Debbie declared that there were lots people on the road. Now George is thinking about the vision and tells Debbie about the angels.
She proceeds to tell him about heaven and as she grabs his arm says that some couples get to go to heaven together like this-- but not us. Then she mentioned that she just saw Todd. One of the pastors in our district had passed away recently and his name was Todd. But she said no, not that Todd--it was Todd from Illinois. At this point, the atmosphere in the van was being impacted by God's Spirit. Todd was a young man that they all new many years ago in their first church. He was very close to Jeremy and Jon and he died of stroke when he was only 17. Debbie said she had just seen him in heaven and they were riveted.
Then she commenced speaking very directly to each of them. She addressed her oldest son Jeremy first, encouraging him to be all that God has called him to be as a father and a husband. Then she spoke to Jon from her heart, challenging him in several areas of his life. He told his Mom that he agreed with her and that he wanted to do what was necessary.
Both boys were crying and being powerfully touched by God's Spirit through their Mom. Then she spoke to George, telling him to stop worrying about money and to trust God for the things He has called him to do. When she finished, Debbie fell asleep again and Jeremy told me that it was a good thing the angels were all around because for the next hour they all wept, and although he was driving, his thoughts were far from the road.
They finally arrived home after a 23-hour trip. It was about 9:30 p.m. on Sunday and my parents, my brother and his wife, my husband and my daughter and I, were waiting with two local hospice nurses. Debbie was weak and needed some medical attention, so we knew we had just a short window of time to say our goodbyes.
Debbie was incredibly strong in her spirit. She looked at all of us gathered around the bed and said, "I'm ready to go. You have all been the best family I could have ever wanted. I love you. I have no pain. I'm thankful and I'm good." Through our tears we told her we loved her too and that we were so proud of her. She asked my daughter to lead us in a song and my brother prayed, calling on the God we serve to let His will be done.
The hospice nurses stood by reverently and watched. They told me later that I had a remarkable family—to see us being thankful and not fearful—to see the peace that was on all of us was very unusual for them. I was able to tell them about our faithful God and the promise of our future in heaven with Him.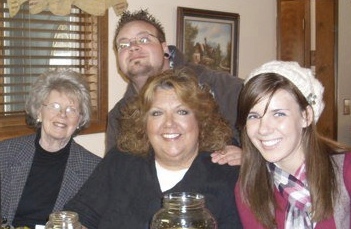 I asked George how I could help, and he invited me to stay so he and my nephews could get some much-needed sleep. I was instructed on how to change her bag and how to hook up new fluid when needed. I was somewhat apprehensive, but God was whispering strength and courage into my spirit. Debbie made it through the night and to our surprise had many conscious moments the next two days.
She kept saying she was good and in no pain, but her body was slowly ceasing to function. I marveled at the strength she would muster to minister to her sons. When they would come in to check on her and talk to her, she lit up with renewed energy and motherly pride. She would give them an affirming word, "I love you! You're the best!"
Being there with Debbie, George and their sons was a priceless gift to me. I felt like I was seeing the inside of them—their hearts and their gifts. My parents were also there each day as we waited and prayed. George was soaking in every moment, tearful and nostalgic. He was reminiscing about their first date and the reason for her love for yellow roses when she perked up from her sleep and made sure he got the details correct! She brought laughter to our spirits even then. She continued to believe, just waiting for the moment that Jesus would bring her home.
By the second day home, Jeremy needed to go back to Florida to pick up his wife and daughter. It was incredibly difficult for him to leave his Mom, but the Spirit of God in her spoke directly to his heart. She thanked him for being the best son he could be and told him that it was time for him to go and take care of his family. She comforted him by saying she was ready to go and that she was just waiting for Jesus to give the word. She reminded him that they would be together again, so go and do what you need to do. As I witnessed her good-byes, I was amazed at how the Spirit of God in Debbie said exactly what was necessary for each person to be empowered to release her.
On my final night with Debbie, what I have always believed, by faith, became so much more real. There are experiences that confirm your beliefs, and this was one of mine. Debbie's pain had increased by Tuesday evening and George decided that she needed more medication. She was no longer conscious and yet her eyes were open, looking up at the ceiling.
George needed some sleep, so I relieved him at about 3am. My heart was aching to see my beloved sister's body in such a state. I felt desperate to do something to help and as I prayed, the Lord whispered to my spirit that my help was no longer needed—what was about to take place required no human assistance—it was time for us to literally sit back and watch what only God can do.
God was revealing to me that the angels and the Spirit of God were present and preparing for this sacred time when Debbie's spirit would be transported from this life to the eternal. Suddenly, my littleness was powerfully evident to me. God was about to welcome his daughter home, which is a longing that He has for us all. With this revelation, I sat back on the couch and was totally at peace.
Debbie made it through the night again and the next morning George and I went to the school to deliver the Disney gifts that she bought for her class. She was always thinking of her kids and was a great gift-giver—so George was determined to get them there since it was the last day of school
We were gone for less than an hour, but when we returned my parents met us at the door. Debbie had received the call from Jesus that she had been waiting for. George went in and laid his head on Debbie and cried, but then he stood up, and lifting his hands heavenward cried out, "Thank You Jesus for your mercy! Thank you for hearing our prayers and receiving Debbie into Your Presence and taking her home!" My parents and I joined him, lifting our hands and our spirits upward, thanking our God for His mercy and grace.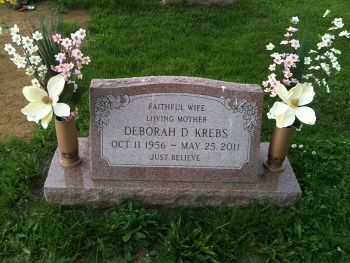 Debbie believed in Jesus and now she is home. I miss her so much, but I am thrilled to know she is in the presence of Jesus. I imagine her hanging out with the kids, laughing and enjoying the heavenly Father and a perfect body! I am sure I will see her again and that promise ministers to me when I am missing her. Heaven works backward—every loss we experience now will be turned into a gain, if only we will believe!
"Therefore we do not lose heart. Though outwardly we are wasting away, inwardly we are being renewed day by day. For our light and momentary troubles are achieving for us an eternal glory that far outweighs them all."
2 Corinthians 4:16-17
Copyright © 2008-2015 Dawn Sheridan Kollar
Read more about the writer: Dawn Sheridan Kollar
---
Post Your Comment...
---