Blessing Our Children
Our Creator is the God of relationships and families. He's all about people and transforming their hearts. He has an amazing plan and purpose for every single one of His creation. We may not fully know the divine plan of greatness and destiny God has invested into the hidden heart of every child however, we know it is good.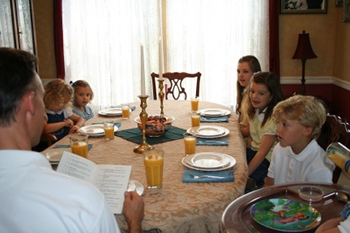 No matter what their age, it is never too late to prophetically speak into their lives and declare that greatness to come forth in Jesus' name. How different would our world be if we faithfully and consistently duplicated on a daily basis God's own words of blessing over our children? We know that God's Word does not return empty but accomplishes what He sent it out to do.
If your children are still living at home, place your hands on their heads and by faith declare out loud the blessing over them. If they no longer live with you, speak the blessing from your spirit to theirs, knowing there is no distance in the spirit.
Believe God. His words are spirit and they are life. He will honor His Word spoken out of your mouth over your children. This one simple act of obedience will literally change the course of your children's lives and destinies.
The Priestly Blessing
And the Lord spoke to Moses, saying: "Speak to Aaron and his sons, saying, 'This is the way you shall bless the children of Israel. Say to them:
"The Lord bless you and keep you;
The Lord make His face shine upon you,
And be gracious to you;
The Lord lift up His countenance upon you,
And give you peace."'
"So they shall put My name on the children of Israel, and I will bless them." Numbers 6:22-27 NKJV
Holy Spirit awakened me at 3:55AM with this prophetic word regarding the youth:
I Am Raising Up a Holy Generation
"I have big plans for the younger generation of the world. They will be carriers of My Word to the next generations and I am setting their hearts ablaze with My love. I am raising up a holy generation and they will carry the baton with great zeal and passion. They are looking for something that is missing in their lives. They are looking for answers to life's questions and problems of the day and that answer is Me says the Lord God.
"The youth are looking for truth and for something solid to stand for and invest their lives in. The things that have been passed down to them are crumbling. All the voices they are hearing in school, media, entertainment and every other place in their culture are devoid of true power and truth which is My Word, because prayer has been taken out of school. This makes them prey for the enemy to lead them astray.
"My hand is on the younger generation and I am causing them to rise up and be My voice in this perverse generation! I am igniting a flame in their hearts and they will carry the torch that will set fire to youth in all cultures all over the world. There is always a remnant faithful to Me and I have heard their cries to save and raise up the next generation so my legacy will not die.
"I am a covenant God and I am faithful to keep My Word. It never returns void. I will have My way with the youth who are hungry for Me and seeking My face.
"I will use them mightily to break up, wake up, and shake up the plans of the enemy set on perpetuating a godless generation. I am greater than he that is in the world who is coming against My own.
"Abortion, pornography and human trafficking have taken root like a cancer in today's culture, but My blood is greater still. It is coming like a tsunami to wash my children clean and raise up a holy standard that will not back down or be defeated in the face of all odds. I Am Jehovah Nissi and I Am their banner and they will fight for the victory and win.
"The prayers of My saints have been heard, but don't stop praying. There is a lot of ground still to be recovered and possessed for My Kingdom and glory. Do not fear. Be of good courage and do not give up. I am with you all the way and I will have My way. Remain faithful as I am faithful. Selah." (End)
Don't stop praying and blessing your children. Jehovah-Nissi is our banner ensuring our victory over our enemies.
And in that day there shall be a root of Jesse [referring to Christ], which shall stand for an ensign [or banner] of the people; to it [the banner, Christ, the guarantee of victory] shall the Gentiles seek: and his rest shall be glorious. Isaiah 11:10 KJV
My Prayer for the youth worldwide
Father, You are the Lord of the Harvest. I ask You to set the youth on fire for you. In the name of Jesus, raise up a holy generation for Your glory. Compel them to be light bearers of Your Word to a lost and perverse generation. Thank You for honoring Your Word of blessing spoken out of our mouths over our children. Amen.
Copyright © 2008-2015 Nancy Slocum
Read more about the writer: Nancy Slocum
---
Post Your Comment...
---