< Back to Kitchen Keeper Recipes
Honey Bunches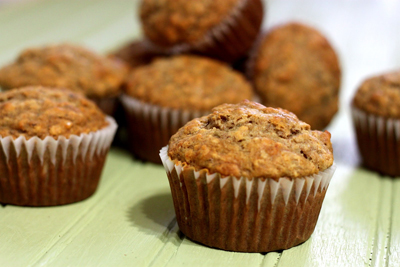 Honey Bunches can be used as a breakfast or lunch bite for those on the run. They are rich chewy muffins and are great to mail in care packages! Makes about 16-18
Ingredients:
2 Cups quick cooking oats
2 Cups coconut, sweetened & flaked
1 Cup flour
1 Cup butter (2 sticks)
1 ½ cup brown sugar
1/3 cup honey
I Teaspoon vanilla extract
Directions:
Mix the oats, coconut, and flour in a large bowl and set aside.
Put butter, sugar, and honey in a large pot and bring to a rolling boil while stirring with a wooden spoon.
Remove from heat and add vanilla.
Stir well then add oat mixture until well blended.
Spoon into greased muffin tins or line with muffin paper cups – Fill about half full.
Bake at 350 degrees for 12-15 minutes or until golden brown. For chewy Honey Bunches cook about 12 minutes but no longer than 15 minutes.
Allow to cool then remove from pan. Don't leave in pan too long or they will be difficult to remove. Store in an air tight container.
For variations try adding: raisins, nuts, seeds, peanut butter, almond extract, or chocolate chips.
Copyright © 2008-2015 Nancy Slocum
Read more about the writer: Nancy Slocum
---
Post Your Comment...
---