Zip it, Lock it, Put it in Your Pocketbook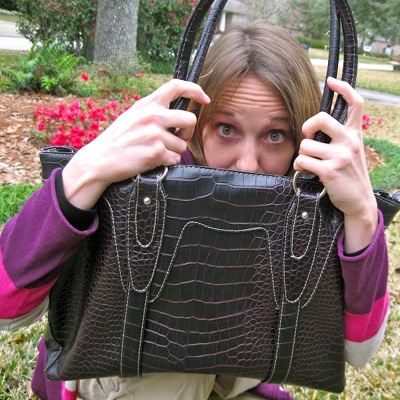 "Wait—I need a pen," I stopped my friend mid-sentence to write down her information. I unzipped my purse, hoping to find it quickly. "She's going to think I'm so disorganized," I thought nervously, rifling to the bottom with growing embarrassment. How could I not find a pen in a purse full of stuff?
My nine-year-old turned to the woman and said dryly, "One thing you need to know about my mom is—she's over-pursed." She confessed it like a disease, and suddenly, I was sacked! I looked at my cavernous bag with frustration.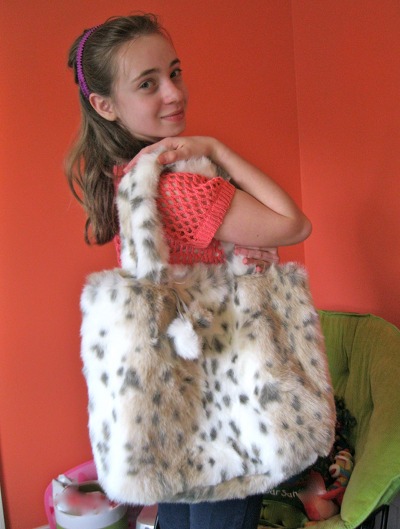 The wry honesty with which my child sized up my organizational weakness compelled me to change. I went home and dumped the contents of my handbag on the floor. Wallet, car keys, calendar and phone mixed in with tissues, gum wrappers, last week's newsletter, old receipts and loose coins. And, there lay the pen I needed. Three, in fact.
If I insisted on carrying certain items with me at all times to manage work, school, and kids, then I needed a better system. So, I decided to interview the experts – women I know personally who accessorize well. Here are the pocketbook secrets unzipped from:
The Fashion-Savvy Teenager
Faith is sporting a fun fuzzy tote that she uses for one purpose – sleepovers with girlfriends. "I just keep it ready all the time with the stuff I'll need," Faith explains. Establishing one bag for one purpose is an organizational strategy worthwhile for busy people. Include a checklist, and replenish the bag according to the checklist before its next use. Some women use this strategy for distance travel, keeping a toiletries bag at the ready with everything needed for an overnight. Or, try this strategy for the swimming pool with kids. A checklist ensures everyone arrives on site with the proper gear.
The Career Woman on the Go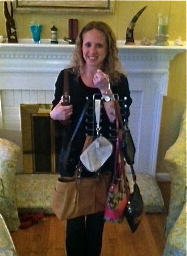 Jackie loves to accessorize with purses of all colors and sizes, according to her shoes and outfit each day. How does she do it without losing important things? "I keep every one of my purses equipped with tissues, lip balm, pens, paper, and anything else basic. The only things that I transfer from yesterday's purse are my wallet, keys and phone."
This strategy reveals the benefits of uniformity. No matter what sack you stash your stuff in, have a system that stays the same. Don't buy a purse hoping that the number or size of its pockets will solve organizational problems. Rather, have an internal system such as a pencil zipper pouch, toiletries baggy, or essentials pouch that are easily transferable from one handbag to another. Many styles of "internal organizers" are on the market for this purpose, some even equipped with a small searchlight!
The Diaper Bag Diva
I always marvel at the attentive mom who can produce from her little bag whatever her baby needs, just like Mary Poppins. Efficiency and preparedness without a back-breaking baby bag is tough to balance, but my full-time teacher friend Sarah has some helpful solutions. As a working mom, she doesn't have time to search for lost car keys, so she says, "having different bags for different purposes helps me to stay mentally organized." Sarah has a separate bag for work, baby, and personal items, but she slips an emergency Zip-lock of essential baby items in each of these bags. It doesn't take up much room, so she can forget it's there until she needs it. Some companies now produce diaper bags complete with laptop and briefcase capability. But every mom finds her own system.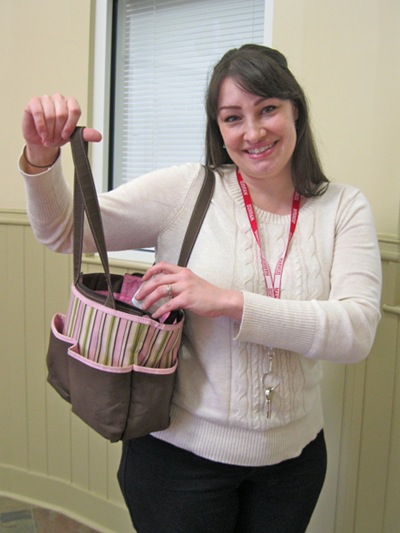 She says the key is to examine regularly what needs to be washed, removed, refilled or restocked in each bag. Essentially, Sarah's strategy is a combination of Faith's and Jackie's that suits her own needs.
After interviewing these friends, I still wondered which strategy would work best for me. I realized the final obstacle to my lack of organization lay with technology. Smart phone, laptop, or desktop computer? Paper calendar or digital? Today's working women want access to information more quickly and specifically than ever before. But technology advancements create new handbag challenges. Are you willing to pay the price for that tiny shiny gadget that holds all your information, or is there an old-fashioned method that works just as well?
What kind of purse organizer are you? Share your ideas with fellow readers here on www.myfrienddebbie.com.
Savvy Shoulder Bag Secrets:
Use a bag for one specific purpose, or one regular event
Keep a laminated checklist inside your purse
Stock multiple purses with the same basics, so you only add wallet and keys
Make a lifestyle or technology change to take a load off your shoulders
Copyright © 2008-2015 Julie Strohkorb
Read more about the writer: Julie Strohkorb
---
Post Your Comment...
---