< Back to Kitchen Keeper Recipes
Pineapple Bread Pudding
This sweet bread pudding is great for pineapple lovers!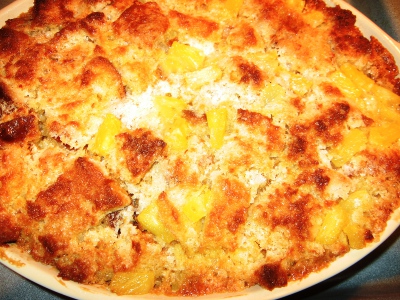 Ingredients
1 stick (1/2 cup) melted butter
1 can (1 lb 4 oz) crushed pineapple, drain and reserve juice
4 eggs beaten
5 slices bread – Pepperidge Farm or Kings Hawaiian Bread)
¾ Cup sugar
1 teaspoon vanilla
Directions:
Cut bread in large cubes and spread out on a cookie sheet and let it sit out early in the day so it gets hardened. I like to use Kings Hawaiian Bread because it has a slightly sweet taste. I have used the large hamburger buns (5 pieces) because they have brown tops and bottoms that brown nicely.
In a large pan melt butter.
Add sugar and beaten eggs and stir with a whisk until blended.
Add vanilla.
Stir in pineapple adding ½ of the reserved juice
Stir in bread cubes until evenly covered
Pour into a round greased 1.5 qt soufflé or casserole dish
Bake in 350 oven for 40-45 minutes or until golden brown
Copyright © 2008-2015 Nancy Slocum
Read more about the writer: Nancy Slocum
---
Post Your Comment...
---