< Back to Poems & Creative Writings
Arise and Go Forth!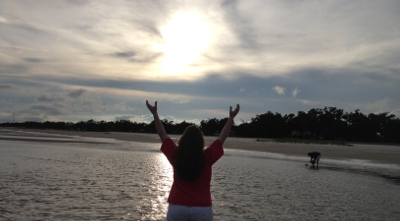 Author's Note: This word from the Lord came to me after a couple days of fasting and worshipping all day on the second day.
A Word From the Lord:
"Arise, My people! Bring forth the full force of the power I have placed within you. I am calling My army forth. I am strengthening My people for the days ahead. The enemy knows his time is very short but he is on a short leash and he and his minions are no match for My army.
Oh, sure he is giving it all he has got but it will not overcome, My true warriors. I have stationed My champions at all strategic points throughout this nation and all the nations of My universe.
My people are loaded for bear and it is time for them to arise and cause the enemy to shudder. It's time to push back the curtain of darkness and the assault of fear on My people. My army is not for wimps.
It's time to bruise the enemy's head. He has been playing head games with My people long enough. He won't stop until I finally cast him into the lake of fire for eternity, but it's time for My sleeping giant to arise and scatter the enemy forces.
My people are coming forth in great power and demonstration of My glory. It will take the enemy by surprise for I am stirring up all the gifts I have placed in My people. It will create quite an extraordinary cosmic fireworks display.
The foundation has been laid in continual solid prayer power. Without it nothing happens. I do nothing that has not been bathed in prayer. When I walked this earth I only did what I saw and heard the Father do. I expect nothing less from My people. It's how I communicate with My people and My ears have not grown slack throughout all the ages. I hear the cries and concerns of My people and I expect them to listen to Me and follow My orders.
Next, I have My prophets who inform My people of what I am doing and going to do. I give them a heads up so they can speak out on My behalf. Not everyone will hear, honor, and obey what I say through them but it is enough for Me to work My plan through.
Of course, I have My pastors, preachers, teachers, and evangelists to carry on the important work of equipping My saints, but I am launching a full body assault through a surprise element – My everyday saints - common ordinary people who I have designed to do extraordinary things. My power and authority I have given you, backed by the never ending power of the blood of Jesus. You have My Word. Speak Him out and you flesh Him out with My DNA that runs through your body. Wherever you go you take Me.
You take Me on the battleground. You take Me into the workplace, the marketplace, the schoolhouse, the White House. You are stationed in families, communities, and nations. You are stationed in political offices and medical labs; in factories and playhouses. You are stationed in every conceivable place and position on earth; in high places and low places; in visible places and not so visible places.
I have stationed you in perfect places where each of you will make a unique difference because I am with you and in you and all around you making it possible for My glory to shine. This is My church's finest hour. I have set you on a hill to give off light to a darkened world. Arise and pour out your gifts in full strength and power. Do it by My Spirit. I am calling My people to arise and display in manifold witness the full range of My creative power within each believer.
To Me, creativity is a matter of solving problems – of finding needs and filling them. I have hidden treasures about to be unloaded, so much so, that it will take the world by surprise. Those stumbling around in the dark will know there is one true God and Jehovah is My name.
I am ready to show forth in medical and scientific labs with cures for diseases and maladies to man. I'm coming forth with creative solutions to economic disasters. The hand of greed will be considerably weakened by the hand of generosity. This will come through My true worshippers, but it will also come through unexpected sources whose hands I will direct.
I am showing up in mainstream media and entertainment in a very grandiose way. My river of life is coming through and it will have My stamp of approval all over it. I will show up in song – in new songs that will capture the hearts and attention of those wandering around in the dark with no purpose or direction. The music industry is ripe for change and a full harvest for My glory. The movies and media are being successfully infiltrated with a new wave of holiness and purity in My name.
I'm raising up true patriots for God who will make a mark for Me that cannot be erased. I am showing up for good and godly influence on the internet. There was a purpose I put all those social networking tools in place through MySpace, Facebook, Twitter, linkedin, and such. Now My wave of righteousness can take the world by storm and spread like wild ire just like it did for President Obama's election campaign.
And you will be surprised what I will do with the youth of all ages. They are more than eager to make their mark and it will be counted for My righteousness. This is a holy war and I am causing My army of all ages to rise and be counted.
I am changing the face of business as usual, of ministry as usual, of politics as usual, of school as usual! I am not an ordinary God and I am orchestrating My people to step up to the plate and hit the ball out of the park. It's a new day and a new way to play according to My rules.
I am the God of My Word. My Word rocks and rules and I am awakening My people for My game plan. And by the way, I am showing up in the gaming industry also. And TV is getting a new face. It's time to tell the vision – My vision – on tell-a-vision. It's all by the book – My good news.
I'm calling all writers, too. There has never been a greater time to get My Word out in every conceivable form and format. Words are containers and they carried the most powerful dynamite ever known to man – the living Word, Jesus the Christ, My Anointed One and His Anointing.
I have smeared My Anointing on My people. Now go forth in the uttermost parts of this universe and show up and show out for My glory. It's time! Move out and make the difference I have invested in you to give. It's My gift to the world through each and every one of you.
I have blessed you with My own hand when I created you. I have given you My Word and sealed it by the blood of My Son. You have My grace, My Anointing, My presence, and My Holy Spirit. There is no lack. There is no more time for excuses. Arise and go forth, My people. Show up in My name and watch Me show out for you. You are the apple of My eye. Arise and shine and go in My love and in My name. I will cover a multitude of sins and transform the face of the earth."
In Christ,
Nancy Slocum
Copyright © 2008-2015 Nancy Slocum
Read more about the writer: Nancy Slocum
---
Post Your Comment...
---