Simple Steps to Seeing an Attitude Adjustment in Your Kids
Strong-willed. Spirited. Energetic. Determined. These are qualities I see in my five-year-old daughter, Gwen and my three-year-old son, Jack. Gwen and Jack are delightful gifts from God! But like most parents, I recently found myself struggling with my kids' behavior. I found that their personalities and attitudes needed to be harnessed in order for them to be happier and for our family to experience greater peace and joy. Surprisingly, some simple changes turned things around quickly!
First, I poured over parenting books until I found one that resonated with my heart. This book was "Shepherding a Child's Heart" by Ted Tripp. It taught me to communicate with my kids about everything! Gone are the angry outbursts, tantrums and bouts of defiance. Gwen and Jack want to share their feelings with me. They know that it is safe to tell mommy why they are sad, afraid, angry and so on. They also know that I require quick obedience in order to keep them inside the "circle of safety," where they are protected. The principles in this book are easy to apply and are completely biblical.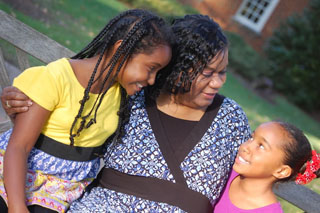 Next, I looked inside myself. What bad attitudes do I exhibit? Am I rude? Perhaps too busy? Or unforgiving? I sat quietly for a few minutes several times a week and let the Lord show me what I needed to surrender. He quickly responded to my quietness and open heart, and great work was accomplished in just minutes of His transforming presence! Then, when my attitude and manner became more Christ-like, the "trickle-down effect" happened. I saw undeniable changes in Gwen and Jack as they watched me model better character. They are now more loving, affectionate, and attentive to my words.
In addition to this, we made disciplinary changes in other areas. Though the word "disciplinary" sounds regimented and harsh, the changes were life-giving. For instance, we took a break from watching television. An occasional family movie or show was allowed, but constant entertainment and noise was eliminated. Most moms (including me!) are afraid to cut out T.V., but what a difference it makes! Now Gwen and Jack are free to use their imaginations in play, and they run around and find energy-outlets all day. They are in better shape and better moods because of it.
Finally, I gave them me. It's funny, but as soon as I determined to lay down my life and give them "me," I began to desire different things. Instead of wanting to surf the net or call a friend, I now desire to read to them, do puzzles, or bake together. Playing with them is fun! We love to talk about the fruits of the spirit. My kids have memorized Galatians 5:22-23 and like to "practice the fruits on each other!" What a joy that is to see.
The parenting book, "Shepherding a Child's Heart," jumpstarted the changes in our family. Sitting quietly with the Lord was (and will always be) an essential part of our growth and refinement.
As parents, we have to be honest about our own behaviors and be open to change, even if it's scary to do so! The Lord is so good. He will help us through it all. Our love and devotion to Him really do change us and change our children. He can help us desire the things we should do, making the yoke easy and the burden light!
The results of the simple changes are too numerous to fully describe. I am so grateful to the Lord for His patience and faithfulness. I pray that you, too, will taste and see that He is good and experience the benefits of His guidance as you parent your children!
Copyright © 2008-2015 Rhema Peet
Read more about the writer: Rhema Peet
---
Post Your Comment...
---