< Back to Kitchen Keeper Recipes
Peppermint Bark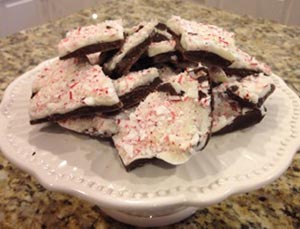 The first question seems to come long before the holiday season begins. . . "Mom, are you going to make peppermint bark again this Christmas?" You would think that something so easy to prepare and available in almost every store is not such a big deal. But even past recipients can't refrain from making their request known. It's just that good.
Making this recipe in bulk and buying some cute Christmas packaging for treats has provided me with a wealth of yummy gifts to share with family, friends and teachers.
Ingredients:
Large Bag of Semi-Sweet Chocolate Chips
Large Bag of White Chocolate Chips
Bag of Miniature Candy Canes, crushed
Line a cookie sheet or baking dish with wax paper.
Melt the semi-sweet chocolate chips in a microwaveable bowl and heat on high for 1 minute then stir. Heat for additional 30 second increments, stirring in between until chocolate is smooth.
Spread Chocolate to make a thin layer in your lined pan. Put pan into the freezer to quick set the chocolate.
Repeat the melting instructions for the white chocolate and spread in a thin layer on top of the dark chocolate. Quickly press crushed candy cane pieces into the white chocolate layer, covering chocolate well.
Place pan of candy in the freezer. When Peppermint Bark is solid, remove pan from freezer and while holding the bark on the corners, start to break off pieces and remove them from the wax paper.
Store the candy in the refrigerator until candy is completely set.
Copyright © 2008-2015 Renee Beamer
Read more about the writer: Renee Beamer
---
Post Your Comment...
---