Why Homeschooling Wasn't Right For Us - And What I Learned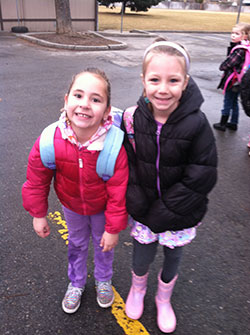 My plan was to homeschool my kindergarten daughter this year. It's funny how plans change!
I prayed about it and felt sure that the Lord was calling me to homeschool. I talked with other homeschool moms and I was fired up! I researched curricula, activities and daily schedules…and I looked into everything from academic-heavy routines to developmental-based, lax ideas. I took personality tests so I'd know how I teach best and how she learns best.
I also watched some videos on homeschooling that resonated with me. How I longed for our home to be the center of my children's lives! I wanted to be together each day so I could instill Godly principles, practical life lessons, and lots of nature romps into their little worlds!
I selected a few curricula to best accommodate my daughter's personality and learning style. My husband was very supportive and purchased a desk and hutch for our "homeschool center."
My parents and my husband's parents were all educators. I had a wealth of resources and I knew everything would be perfect. Right? Wrong!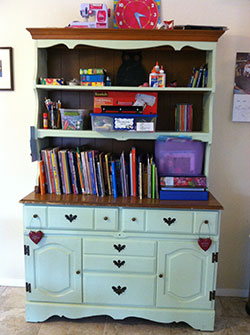 Factor in a cross-country move, the loss of our beloved family pet, and a new climate to adapt to: My daughter was a mess. She was very, very angry. She refused to do school work of any kind. She rebelled at any directive or suggestion I gave her.
I prayed! I begged for wisdom, patience, and understanding. I gave her grace, grace and more grace. When she acted out, I'd ask how she was feeling. We'd talk, pray and cry together. She admitted she was mad at me for taking her away from her home, her dog, her friends, and her church.
For a few weeks, I wondered if she would ever be herself again. I also wondered if I could survive this drama! Then, during a prayer time, the Lord gave me an idea.
I wrote her a book.
It was her story, and it began with goodbyes to the people and things she loved about Maryland. Then I wrote about the sadness in her heart, and lastly, I wrote about the wonders to come, including a new church and lots of friends. The last page contained a picture of our family smiling together with the caption "It will be ok."
This book ministered to her heart. I read it at least once a day, and after a few days she was better. She knew I understood her clearly.
After I wrote the book, my husband made a suggestion.
"Why don't we see if we can put her in school this year?"
You would think I'd be happy at the idea, but I wasn't. Shame flooded me. I felt like I had failed! My dream of family togetherness was unraveling and it scared me. I was tempted to ignore him and ignore my pain, but I couldn't. My daughter needed more than a homeschool environment could give, and I had to face it.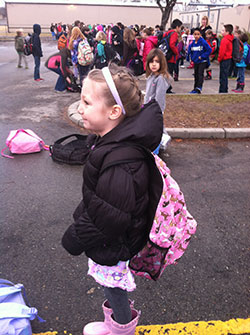 It didn't take long to find the right place. Within a week we found an amazing school that truly strives to see students reach their potential in the Lord. God provided someone to help pay the tuition. Best of all, my daughter loves it! She has flourished in every way. She adores her teacher and she has many new friends. Every day after school she tells me she had a great day, and I feel so blessed.
There's no doubt that we did the right thing, but I still have to deal with a sense of grief. Sometimes after I drop her off, I glance at the homeschool center. A wave of sadness comes over me.
I feel loss. I feel despair. I feel shame.
Tears fall and I come before Jesus. He always has a kind word for me. He reminds me that He picked me to be my daughter's mother. He asked me to homeschool for a short season, and He's happy that I put her needs before mine. He shows me that He has a destiny for her as a leader, requiring a different learning environment to challenge her. And He reminds me that love comes with a cost.
And when I sit with Him I know that I'd do it again. There is no sacrifice too great compared to the glory of His presence. I want to always say yes to Him- the One who loves us more than minds can comprehend. My daughter is safe in His hands, and so am I. As I see my daughter and I through His lens, I realize: it will be ok.
Copyright © 2008-2015 Rhema Peet
Read more about the writer: Rhema Peet
---
Post Your Comment...
---