Gluten Free Baking Made EASY!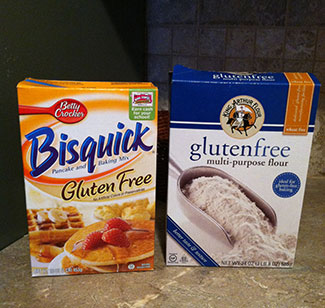 When my daughter was diagnosed with Celiac Disease over three years ago, I panicked! Just the thought of shopping for gluten free items was intimidating. I wasn't a great cook or baker to begin with, so an elimination diet definitely challenged me. I did some thorough research and bought anything that was considered a gluten free baking "essential." Little did I know that this was not necessary!
Most of the special items I bought sat on the shelf for months. I had a great collection of things that I didn't know how to use, and I didn't have time for experiments—especially when the results were cardboard-flavored hockey pucks! I had a hungry family to feed! Then I took a friend's advice and tried a couple of pre-made gluten free flour blends.
Let me introduce you to King Arthur Gluten Free Flour Blend and Gluten Free Bisquick. I am convinced that these are all that I need to make tasty treats without weird textures. No need for almond flour, xanthan gum, arrowroot powder, or other pricey add-ins.
King Arthur Gluten Free Flour Blend is incredible. I simply take a normal recipe and substitute the regular flour with this blend, and I use the same measurements. I have made dozens of cookies, cakes, muffins, you-name-it, and the results were consistently yummy! People often remark that they can't believe the things I make are gluten free—and they have no idea how easy my method is!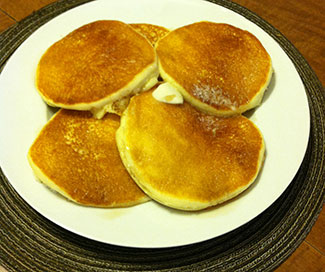 My other go-to blend is Gluten Free Bisquick. This is the least expensive pancake mix out there, and my kids love it. The gluten free version tastes slightly different than traditional Bisquick, but still quite good. I've made "Ultimate Chicken Fingers" from the recipe on the box, and they are delicious—and a hit with the kids! Bisquick bread, cakes and desserts are good too, so don't be surprised if you use an entire box quickly.
All three of my children eat completely gluten free, and I have noticed a huge improvement in their health! If you have wanted to try to go gluten free but you are afraid of failure, I encourage you to start. These pantry staples will help you with the baking. Other than that, stick to natural foods like fruits, veggies, nuts, legumes, organic meats and cheeses, quinoa, and rice. You will be glad you did!
Copyright © 2008-2015 Rhema Peet
Read more about the writer: Rhema Peet
---
Post Your Comment...
---