Your Breakthrough Is Here!
Breakthrough. At times we are desperate for it. It seems to loom just beyond our reach, but we feel that if we are in Christ, it will certainly come eventually… right?
My husband and I are in a difficult season. We are facing new scenarios, new schedules and it is just plain hard. We have been tired and disappointed. I often cry out to the Lord when I'm driving because it is a time that I am alone, and my recent request was for a breakthrough.
I begged the Lord to change my circumstances. Through my foggy lens, the only answer I could see was a job-change for my husband. I gave the Lord several ideas of how He could accomplish this job-change (can you relate?). The Lord, in His kindness, corrected me and adjusted my lens so that I could see clearly.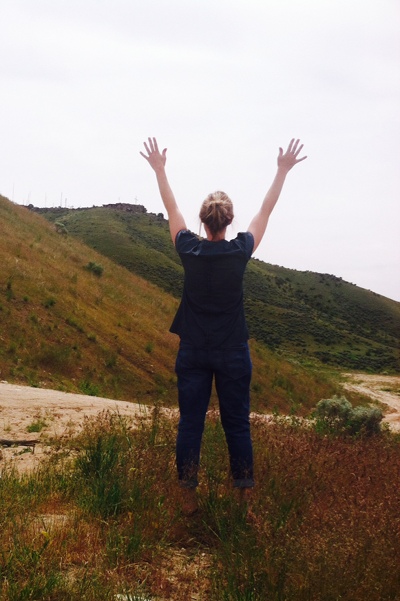 I was driving and praying—ok, begging—and I heard the Lord so clearly it was almost as if the world around me had frozen. He said, "Your breakthrough is here." I looked up to the mountains and saw the letter "B" gleaming at me as if to underscore the word "breakthrough." Then came a download that I cannot explain, I can only say the Holy Spirit taught me a great lesson in an instant. I suddenly knew that breakthrough did NOT require circumstantial change. I had been railing against my issues, feeling like a prisoner. The Lord showed me that TRUE breakthrough is spiritual. Only one thing was required of me: to allow the Holy Spirit to change my heart and mind. I could not do this in my own strength.
I submitted to the Holy Spirit and was instantly refreshed! He showed me that I can abide in Him and He will bear my hardships. I thought of the Apostle Paul, who had it much rougher that I ever have, yet he was able to say,
"…I have learned to be content whatever the circumstances. I know what it is to be in need and I know what it is to have plenty. I have learned the secret of being content in any and every situation, whether well fed or hungry, whether living in plenty or in want. I can do all this through Him who gives me strength." Phillipians 4:11-13 (NIV)
Before my breakthrough, I would have thought that Paul was a Super-Christian. Or maybe times were different then and it wasn't as hard to be content. This is not the case! The good news is: we can all have our breakthrough and be content right now. It is a good idea to ask ourselves if we are willing to give up our way and allow the Lord to flood us with His grace.
When I was in India on a recent mission trip, I saw people who were poor, abandoned, disfigured, betrayed, and lonely. Despite their circumstances, these precious people were filled with unmistakable, un-disguisable joy! I have a healthy family, a full refrigerator, and the ability to worship my God freely, yet I have struggled so terribly. This does not add up! Now I understand that we can abide in Him, our Rock. We do not have to live in shifting sand. We don't have to be moody or feel resentful toward our lot in life.
Will hardship come again? You bet. I know things will hurt and I will suffer, because that's part of life. But I also know the promise He has made to me. I do not want to rely on perfect circumstances, because to think: I'll be happy when...(fill in the blank) will never work. You and I can live in the present, abiding in Him, allowing the Spirit to work in us to make His joy our strength.
Perhaps this sounds vague to you. Maybe a bit too…spiritual. That is understandable, but I challenge you to get out of your comfort zone. Seek the Lord for yourself and ask Him for your own personal breakthrough. If you approach him with open hands and an open heart, He will respond. Sister, it's that simple.
"Come near to God and He will come near to you." James 4:8 (NIV)
Copyright © 2008-2015 Rhema Peet
Read more about the writer: Rhema Peet
---
Post Your Comment...
---