< Back to Kitchen Keeper Recipes
Family-Friendly Clam Linguine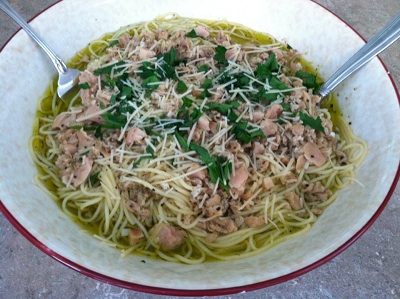 I don't know what our family would do without clam linguine! This meal is easy, delicious, and even our pickiest eater manages to enjoy it. The credit belongs to my wonderful Italian mother-in-law. She has a true gift when it comes to anything culinary!
There are many ways to make clam linguine, and this method works best with my busy schedule. All of the ingredients are things I keep on hand. Because my children can't have gluten, we substitute the linguine noodles for gluten-free spaghetti.
I hope you enjoy it as much (and as often) as we do! This is a meal that is even better the next day…and as my mother-in-law says, "mangia bene tutti grosso!"
Ingredients:
3 garlic cloves, minced
¾ C extra virgin olive oil
¾ C water
¼ C chardonnay (optional)
3 cans chopped clams
Juice of ½ a lemon
Salt, pepper, oregano to taste
1 box linguine noodles (or noodles of your choice)
½ C grated Parmesan cheese
½ C chopped flat leaf Italian parsley
Red pepper flakes (if desired)
Directions:
In large pot, boil noodles until al dente.
Drain and set aside.
Heat 2T extra virgin olive oil, add minced garlic and sauté a minute or two (do not burn).
Add clams, 3/4C olive oil, water, lemon juice, chardonnay and seasonings.
Cook at a low boil for approximately 20 minutes.
Pour sauce over noodles.
Top with Parmesan and parsley.
Serve with red pepper flakes if desired.
Copyright © 2008-2015 Rhema Peet
Read more about the writer: Rhema Peet
---
Post Your Comment...
---