Completing the Muffin Mission
On a Monday in August, we transformed our kitchen table into a muffin station: Blueberry muffins, pumpkin muffins, cinnamon streusel muffins, and triple chocolate chunk muffins.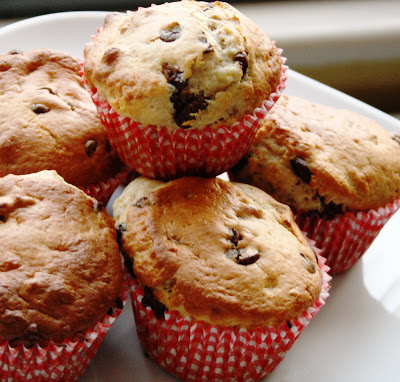 Our teachers and school staff headed back to school that week in order to prepare for the start of a new school year, so we decided to bless them with a little muffin treat.
The thing is: my kids love muffins.
Love them.
But they each only want to eat their own personal favorite flavor.
So, we made about 24 muffins of each variety, and then each kid needs to sample at least one, maybe two….four?…to make sure they are teacher worthy.
Mom needs a taste, too, of course.
As my five-year-old says, "Muffins are too much delicious and we want to keep eating them and eating them before we run out."
Then we packaged those we haven't eaten up and take them into the school office for teachers and staff to munch on while they clean classrooms, move desks, prep paperwork, put up bulletin boards and oh so much more.
We do this every year because we love muffins.
Well, more importantly, we love our teachers.
Sometimes we take cookies, sometimes flowers for the teacher's lounge, sometimes muffins, whatever we decide to make...we like to treat our school staff every year that first week that they return to the school. Then we continue that all year long---the first day of school, the end of each marking period, Thanksgiving, Christmas, the last day of school. We take donuts in on Election Day when the school is closed but the teachers are working in their classrooms. Any occasion is a reason to celebrate their hard work!
And love takes effort. Loving someone means sacrificing for them, maybe some time, money, effort, or muffin batter.
Somehow, I get this when it comes to people. Being a wife, being a mom, being a friend, being in ministry means giving to others.
But I read this today:
So be very careful to love the Lord your God (Joshua 23:11 NIV).
Joshua, the well-loved leader of Israel, had long since brought God's people into the Promised Land. Now he was old, preparing to die, and he gave a farewell address.
He reminded them of God's provision and promises and the consequences for disobedience.
That's where this one sentence is tucked in, just a small thought in a grand speech.
Be careful to the love the Lord.
I feel that nudging of the Holy Spirit, that gentle pressure as He treads on the tender places of my heart.
Am I careful…attentive…thoughtful… purposeful in the way I love Him?
Or can I sing about loving Him or talk about loving Him and keep it all so simple and without effort?
Maybe sometimes we all treat loving God as our prerogative. How much we choose to give is up to us. Anything we give should make God happy. He should be content to fit snugly into our agendas, schedules, budgets, and thoughts.
What, after all, should carefully loving God look like?
It means tending that relationship. Choosing Him over all else. Giving up this and that so He comes first.
Loving God well means loving God wholeheartedly, not giving Him halfhearted praise and emotionless obedience.
It means speaking His love language and and worshiping Him the way He wants to be worshiped, rather than in whatever way feels comfortable and non-embarrassing to me.
It means desiring with desperate and passionate longing to know Him, really know Him, and to pour our lives into that one grand effort to be with Jesus.
Like Hosea wrote:
"Oh that we might know the Lord! Let us press on to know him. He will respond to us as surely as the arrival of dawn or the coming of rains in early spring (Hosea 6:3 ESV).
What hope! Just as assuredly as the sun will rise with each new day and that April showers will bring those May flowers, so we can trust that God will answer us when we call.
When we press on to know Him, He will meet us in that place. He will make Himself known.
As Chris Tiegreen says:
Press on in whatever way you can think of, knowing that God longs to share who He is. When your heart is pressing in to Him, His response will be as certain as the dawn.
May we start this week….may we start even today, right this moment: to be very careful to love Him.
May we learn to love God actively and wholeheartedly instead of passively and complacently.
May we press in to know Him in any way we can, in every way we can.
Then, may we look forward with expectant hope and the confident assurance that He will respond to us
To read more devotionals by Heather King, you can visit her blog here: http://heathercking.org/
Copyright © 2008-2015 Heather King
Read more about the writer: Heather King
---
Post Your Comment...
---