< Back to Strength for Your Spirit
Sonship Versus Condemnation
When I began my journey through a healing ministry several years ago, my greatest misunderstanding involved the issue of Sonship. In my mind, Bible passages about Sonship were written for Christians who were better than me. The self-controlled, disciplined, selfless, bible-reading, praying-without-ceasing, fasting, quiet-voiced, meek Christians were the "Sons" mentioned in these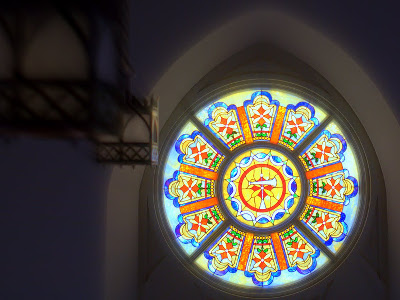 verses. I thought I was a failure, and could not receive these words as truths for me personally. Instead, I identified with other verses about people who would not inherit the kingdom and would be cast out forever. If a Bible passage was chastening and disciplinary, I could receive it. If it was accepting, I could not.
My first assignment was to read and journal through the book, He Loves Me, by Wayne Jacobsen. I grappled with the book's concept that God loves me beyond limit and does not require anything from me in order to earn His love. I found myself angered as I read about the cross, thinking that the author was really brazen to dismiss the great sins that we all commit. As I wrestled with God over this issue, my anger melted into awe and my heart softened as the Holy Spirit revealed to me that Jesus' sacrifice really was enough. I finally acknowledged that God's redemptive plan was perfect and I did not need to add to or take away from what was done for me. This liberated me to look at, understand, and deal with my sin.
As Paul writes in Romans, we have an issue of sin. Now what? How can a Son of God--who appears blameless because of Christ—still sin? This seemed like double-mindedness. As I was confronted with my sin and the sins of others against me, I had to simultaneously learn the truth about Sons and sin.
As my prayer counselor showed me, there is a difference between "true" and "truth." For instance, it may be true that I have angry outbursts, but this is not the truth about me. The truth is that negative behavior was nailed to the cross and is dead, and I am alive in Christ. How is this possible?
In Sam Soleyn's Sonship studio session "Biblical History of the Sons of God" he acknowledges that, "the Lamb was slain before the creation of the earth (Rev. 13:8)." In order for this to be possible, there must be a realm outside of time and space in which Jesus was crucified. In this realm, I am alive in Christ. This realm must be more real and permanent than the realm that we are assigned to on earth. This realm is what the Father sees and considers truth for me, and this realm always is and always will be. The concept that I am in Christ and He is in me is impossible for me to completely understand. The Bible compares this to a man and woman leaving their father and mother and becoming one in marriage. As it is written in Ephesians 5:32 "The mystery is great, I am speaking of Christ and the church." This is truly a mystery, a miracle, and a reflection of the beautiful and unfathomable mind of God.
I considered that God sent Jesus to die the death meant for me, and Jesus was the blameless one, the ONLY one who could ransom me. But before this took place in the realm of time and space that I understand, God foreknew what I would need and provided the sacrifice before I was even created. If God foreknew my fears, failures and mess-ups and still made provision for me, how could I condemn myself? 1 John 3:20 states, "If our hearts condemn us, we know that God is greater than our hearts, and He knows everything." (NIV)
I tapped in to the heartbeat of God with this revelation. He loves His children. Everything He does is for our good. But, I had another question. Why, then are there so many rules—particularly in the Old Testament? There were the Ten Commandments, the rules about what not to eat and drink, how to behave, rules about women in church. Before my revelation about Christ's death being enough for me, I would read these rules and feel condemned. Even after my revelation, they didn't "feel good."
As I pondered and discussed this with my husband, I came to the conclusion that God sets rules solely for our benefit. He does not require us to follow rules to please Him, but rather, to protect us. Consider the commandment to keep the Sabbath holy, for example. Why would God "force" us to rest? Dan Allender eloquently answers this in his book, "Sabbath," when he states, "A commandment is often assumed merely to be a prohibition. Such thinking is idiocy. God's commandments prevent us from sucking diesel fumes in order to orient us to delicious air." He also adds, "If we violate (God's) normative structure, there will be consequences that spiral through all dimensions of life." This understanding was crucial for me as it led to a deeper knowledge and trust of the Father, along with a distinct longing to fulfill His requirements so that I could live abundantly in His presence and show my love to Him through obedience.
I will note here that this is not to say I'm "off the hook" and can live as I please without consequence. If I murder someone with the notion that God only sees Jesus and I am righteous when He looks at me is true. But I have deceived myself to think this is acceptable. There are consequences for our sin. Galatians 6:7 reads, "Do not be deceived: God cannot be mocked. A man reaps what he sows." If I sow hatred, malice, murder, rage, dishonesty and so forth, I can expect to reap the consequences. So instead of looking at rules negatively, we can choose to see them as an opportunity. We are no longer slaves to sin. We have the freedom to choose rightly and to change from glory to glory, allowing Him who began a good work in us to be faithful to complete it. Our journey is one of choices, and we are charged and inspired to upgrade and grow to resemble the "I in Christ" more each day.
Having examined God's preparation for his children before the foundations of the earth, His great sacrifice on the cross, and the parameters He has set for my life for my benefit, I will now look at Sonship specifically. The book of Ephesians rings with the joy of Sonship. I picture Paul who was physically on house arrest, yet free and delighted as the Holy Spirit swamped him and guided him to write these words. If the first chapter of Ephesians were summarized in bullet points it would look like this:
I am God's chosen one
I am blessed
I am a predestined daughter
God desires me and I please Him
I am graced
I am a recipient through Christ
I am redeemed
I am forgiven
I am a knower of His will
I am saved
I am marked with a seal
I am a guaranteed inheritor
I am God's possession
I am His workmanship
The message is clear: I am God's and He wants me. One of the most poignant scriptures about Sonship is Romans 8:15, "For you have not received a spirit of slavery leading into fear again, but you have received a spirit of adoption as sons, by which we cry out, "Abba! Father!" We are invited to call the God of everything our Father—and it is a normal response when we are reborn. John Paul Jackson's explains his own profound experience in the article "Spirit of Adoption." He describes what occurred when he signed his son's adoption papers,
"…as I picked up the pen, something came over me. The best way I can describe it is that a blanket dropped on me. I felt the weight of it, and right there in front of the nurses and administrative team, I just began to weep. I loved this little baby I was taking into my household. I loved him as much as I loved my firstborn son."
What a beautiful picture this is of the Father's love for us.
As I mentioned earlier, Sonship was planned and created before the foundations of the earth. The first son, as Sam Soleyn writes in his article "Sonship," was Adam. "Adam walked with God in the cool of the day and enjoyed open fellowship with God until he chose to disobey God. Adam gave up Sonship and (as a result) he lost the status of son and acquired the status of an orphan." This orphan status was passed down to all generations. Jesus came to give us an opportunity to return to Sonship. His mission statement was to reconcile Sons to the Father. As Soleyn writes, "He Fathered the disciples and showed them the love of His Father. By dying for our sins, and then being resurrected from the dead, now, we who are born again of the Spirit and believe, regain what was lost by Adam… our Sonship."
When Sonship was lost in the garden, Adam learned to depend on himself for provision, protection, and promotion. The Lord cursed the land and told Adam that it would no longer be easy to grow food. Adam had to work for his provision. The once docile animals that surrounded him would be a threat. Weather became a concern. New dangers were everywhere, from sun exposure to dehydration to hypothermia. Adam had to protect himself. And with the lost status as Son, Adam had an identity crisis. He now found a deep need within himself to establish who he was and promote himself. And so, the threefold problem was born.
Jesus Himself dealt with these three issues when Satan tempted him in the desert. Fascinatingly, Satan's three attempts to cause Jesus to sin were very specific. First, Satan told Jesus to make stones become bread. Satan knew Jesus was hungry and physically suffering, and so he tempted Him with self-provision. Next, Satan taunted Jesus, saying if He was really God He must throw Himself down, knowing the angels would save Him. In this way, Satan tempted Jesus with self-protection. Lastly, Satan told Jesus he would give him all the splendorous kingdoms of the world if He would bow to him. Here, Satan tempted Jesus with self-promotion. Hebrews 4:15 states, "For we do not have a high priest who is unable to empathize with our weaknesses, but we have one who has been tempted in every way, just as we are—yet he did not sin." Here Jesus serves as an example to us: we can and we must turn from this threefold-dependence and instead, pledge ourselves to our Father for every need and purpose.
According to Soleyn, there are 5 levels of Sonship. As I began my search for truth and restoration through Healing Hearts, I was a Nepios Son. This is a baby Son who selfishly concerns himself with his own provision and protection. Soleyn states,
"The (Nepios) child…is an heir, but not mature enough to have a right to the inheritance. (He is) easily influenced by various circumstances, teachings, and schemes of men. He is given to jealousy, quarreling, divisions and boasting. He is in desperate need of tutors and guardians to agree with the Spirit and unveil his maturity.
The additional levels of Sons are:
"Paidion- A little child mature enough to understand and proclaim.
Teknon- This child knows his sins are forgiven.
Neaniskos- Young Man in vigor of manhood.
Huios- The fully matured Son."
Each Son is invited and expected to upgrade to new levels in order to experience deeper intimacy with God, and an ability to reflect Him more purely in accordance with his true self, which is dead to sin and is alive in Christ. This is transformation.
Graham Cooke describes an aspect of Sonship in his c.d. teaching "The Art of Thinking Brilliantly." Graham likens our relationship with the Father to the family of a newborn baby. When a baby is born, the family gathers to gaze upon him and decide whose features he has, whether he bears his mother's eyes, father's nose, and so forth. To be born again means that we are born with a likeness to our Father. Jesus said, "anyone who has seen me has seen the Father" (John 14:9). As Jesus had a likeness (though His was complete), so we as Sons bear a likeness to our Father.
The reconciliation of Sons to the Father is the core of the Gospel. When true Sons know who they are and mature accordingly, they actively usher in the kingdom of heaven upon the earth. The more we look like our Father, the greater the response from the world. Others will look upon us and be forced to make a decision. Do they desperately want what we have? Or will they hate us for it?
As I continue this walk, I relate to Much-Afraid, the flawed little lamb who travels rugged terrain with the companions Sorrow and Suffering. I realize that Sorrow and Suffering are a gift, which is also a profound mystery. These companions make me more like Christ and they reveal my Sonship to me. They require me to fellowship and depend on God, and not on myself. To willingly partner with Sorrow and Suffering makes me deny myself, my addictions, my escape mechanisms. Then I can rest in my status as Son, knowing the Father—who knows me better than I know myself—will provide for me, protect me, and promote me for His name's sake. The journey is arduous and remote, but I wouldn't change it. To see His glory is worth it. I am grateful to be His.
Copyright © 2008-2015 Rhema Peet
Read more about the writer: Rhema Peet
---
Post Your Comment...
---