Book Review: "He Loves Me" by Wayne Jacobsen
I have a confession to make. I read this book through quickly and I thought, "Eh. That was ok." Like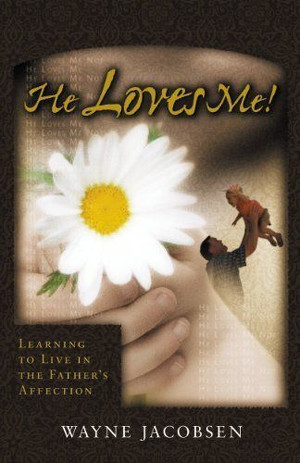 many Christians, I knew in my head how much God loved me, and I read this book with a logical, cerebral posture. When my mentor asked me to read it again, I promptly said that I had already read it and did not need to. She looked at me seriously and said, "You are not going to read it like you read it before." She told me to read one chapter a week, out loud. I was to pray and ask the Holy Spirit to read it with me, and to show me what I needed to learn. Then I would record my discoveries in my journal.
As I sat in God's presence with an open heart, I began to have issues with the book. Each chapter delved deeply into how great God's love is and how it can't be earned. The truths therein chiseled away at my "religious" mindset and helped me to grasp more clearly the wonder of God's heart and the beauty of the cross. I wrestled my way through this book and found myself changed.
He Loves Me invites the reader to reshape her foundational understanding of the relationship that God desires. Sometimes we believe one thing in our heart and another in our mind. How do we know what we believe? We need to examine the fruit of our lives. Do we live in the Father's affection, in freedom? Or are we in pain? If you struggle with control issues, depression, busyness, over-commitment, insecurity or shame, please come spend time in these pages. Understanding God's love and our status as heirs is critical medicine to our broken hearts. May God bless you as you seek His face.
Copyright © 2008-2015 Rhema Peet
Read more about the writer: Rhema Peet
---
Post Your Comment...
---