Book Review: "Bold Love"
Book Review: "Bold Love" by Dan Allender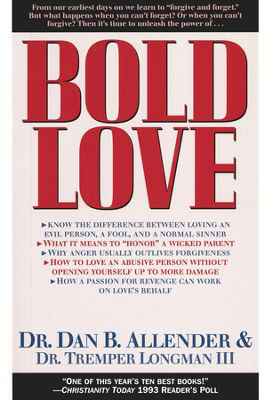 Do you ever wonder, what is "love," anyway? Does loving well mean we have to agree with other people's views, or go along with their demands? Does love require turning the other cheek? Is it unloving to maintain boundaries?
If you, like me, have ever wrestled with these questions, "Bold Love" is a must read.
In this book you will discover how to love from a pure heart as Jesus does. You will see that it is possible to love without leaving yourself vulnerable to abuse and damage. You'll learn to identify your own anger, revenge and hatred (gulp!) toward God and others and how forgiveness will free you to love boldly. Dr. Allender excavates conflict in order to reveal underlying motivations and truths. We all need to know how to appropriately love evil people, fools and normal sinners—and how to honor while being honest.
Loving boldly requires courage, and has the capacity to free both the giver and receiver. If you are willing to examine your heart as you read this, you'll be changed!
Copyright © 2008-2015 Rhema Peet
Read more about the writer: Rhema Peet
---
Post Your Comment...
---