< Back to Kitchen Keeper Recipes
Light and Delicious Thai Soup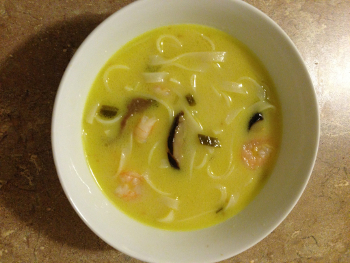 This is hands-down my family's favorite soup recipe! The flavors are so bright and savory and the ingredients are healthy. It's a versatile soup, too—you can add or delete ingredients to your preference. The key to getting the perfect flavor is to let the broth simmer for at least 30 minutes. I hope you enjoy!
Ingredients:
8 C chicken broth
1 can full fat coconut milk
3 cloves chopped garlic
1.5 T grated ginger
2 stalks of lemongrass, halved (remove before serving)
1 T fish sauce (we use a gluten free variety)
juice of 1 lime
chopped green onions
shitake mushrooms (optional)
1 lb shrimp (optional)
1 package rice noodles (optional)
Directions:
Combine ingredients chicken broth through green onions.
Bring to a boil and reduce to simmer for approximately 30-40 minutes.
Add mushrooms, shrimp and noodles 10 minutes prior to serving.
Add salt to taste if necessary.
Copyright © 2008-2015 Rhema Peet
Read more about the writer: Rhema Peet
---
Post Your Comment...
---