Book Review: "Strong Fathers, Strong Daughters"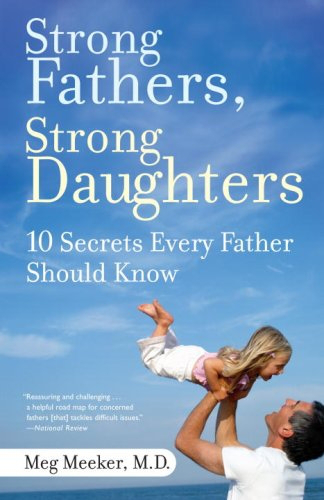 As I write this, it is my daughter's eighth birthday. She is such a joy to us! I marvel as I watch her grow in knowledge and uniqueness. She loves to help me around the house and to tend to her toddler sister. I trust her to do so many things. As much as I cherish to watch her grow, I have a responsibility to acknowledge and prepare for what looms in the near future: adolescence.
Even now we see shadows of adolescence in her lengthening body, her twinges of rebellion and strong will. At times, my husband has not known what to say or do when she gets upset with him. It dawned on me that a book written for fathers of girls might give him some tools, and so I bought "Strong Fathers, Strong Daughters" by Dr. Meg Meeker. It turned out to be extremely helpful!
This book kept my husband's attention and encouraged him. Instead of attacking fathers for their failures, Dr. Meeker describes attributes that they should demonstrate, and what specific things daughters need from fathers. This is a call to action and an invitation to be one's best for the next generation.
Dr. Meeker's use of storytelling and strategizing makes this book very practical. She reminds dads that they are their daughters' first love and they must be viewed as heroes. Fathers need to know how to communicate with them and give grace to them. In these pages, dads can learn language to use (or not use) regarding diet and body image, sexual purity, humility, faith and more. Ultimately, if a girl knows that her father values her, she will have self-confidence and courage to follow God's best plan for her life. Dads set daughters up for success in every area, including love.
If you have a daughter, I highly recommend this book for both you and your child's father. May the Lord bless you as you raise your daughter!
Copyright © 2008-2015 Rhema Peet
Read more about the writer: Rhema Peet
---
Post Your Comment...
---