< Back to Poems & Creative Writings
Goodbye, Little One
Glancing over your shoulder
You grab your keys
Flowery cards line the table
Where toys lay yesterday
A blurred drive
Gripping the wheel tight
Feeling the pain of the one sitting beside you
Greetings, smiles and tears
As you walk in and face others.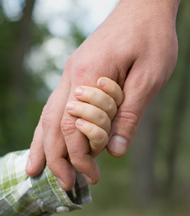 A small, beautiful box
So small
too small.
Your sunglasses fog
As the box nestles between dirt ledges
Soon to descend.
Is this all there is?
Why?
Rubbing your sunglasses you wince
And look up
And the veil is peeled
Just for an instant
You see his face
And his smile tells you
Even though your heart is pierced
You couldn't wish him back
Because he is happy
He is perfect
He is loved.
Author Note: This poem is dedicated to: John and Carri Anne Hoover, whose son inspired a story of love which can be read here First Dance.
Copyright © 2008-2015 Rhema Peet
Read more about the writer: Rhema Peet
---
Post Your Comment...
---